Concordia students produce Broadway Revue
Published by Concordia University, Nebraska 4 years ago on Fri, Oct 5, 2018 11:29 AM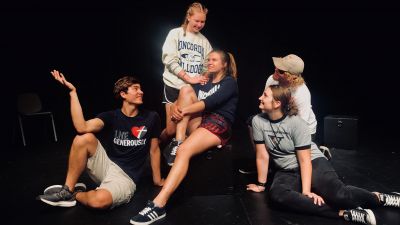 The cast of the musical revue rehearse for their shows at Concordia on Oct. 19-20.
Concordia will present an evening of music, laughter and theatre in an entirely student-produced musical revue at 7 p.m. on Friday, Oct. 19 and Saturday, Oct. 20 in the Studio Theater of the Music Center on Concordia's campus.
"The production is in the style of a Broadway revue, songs pulled from various shows of diverse eras and styles," said student director Jayme Lowe. "Throughout the show, we'll see how music can make us laugh, dance, love and chase dreams. We're excited to share this show with everyone."
Tickets are free and can be reserved in the Concordia bookstore in the lower level of the Janzow Campus Center on Concordia's campus. They can also be picked up at the door prior to the performance, though they are first come, first serve.
Selections include songs from musicals such as "The Book of Mormon," "Mamma Mia," "Into the Woods," "Thoroughly Modern Millie," "A Funny Thing Happened on the Way to the Forum," and more.
Members of the cast and crew include (listed alphabetically by state, city and then last name):
Cast
Samantha Pietanza, junior, San Diego, Calif., featured performer
Mikayla Lowe, freshman, Atchison, Kan., main troupe
Rachel Krome, junior, Fairmont, Minn., featured performer
Josh Marlatt, freshman, Mound, Minn., main troupe
Rebekah Rusert, senior, Truman, Minn., main troupe
Erin Rowland, senior, St. Peters, Mo., featured performer and costumes
Trent Bruntz, freshman, Hastings, Neb., main troupe
Chelsea Irwin, senior, Lincoln, Neb., main troupe
Shelby Todd, sophomore, Staplehurst, Neb., featured performer
Tabitha Ristvedt, freshman, Utica, Neb., main troupe
Keziah Bruns, sophomore, Waco, Neb., main troupe
Amos Utecht, sophomore, Rosebud, S.D., main troupe
Abigail Wisniewski, senior, Withee, Wis., main troupe and accompanist
Crew
Jayme Lowe, senior, Atchison, Kan., co-director
Stephanie Hatesohl, sophomore, Shawnee, Kan., stage manager
Linnea Buchholz, sophomore, St. Charles, Mo., co-director and choreographer