Concordia students present research at 2016 annual academic symposium
Published by Concordia University, Nebraska 6 years ago on Fri, Apr 15, 2016 11:07 AM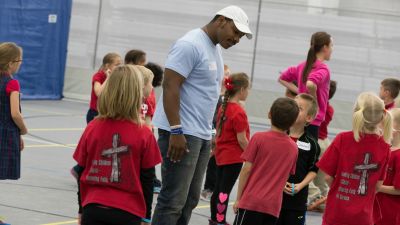 Terrence Austin and Sophie Simonsen help lead health and wellness activities for local parochial school students to help them learn to care for their bodies. Simonsen's symposium presentation about this event was called "Wise and Well in Christ."
Thirty-eight students presented 36 academic projects from a variety of disciplines at Concordia University, Nebraska's sixth Annual Academic and Research Symposium on April 11, 2016.
"The symposium is considered a high-impact experience, and the benefits for presenters and impact on them is immense," said faculty sponsor Dr. Nancy Elwell, dean of the College of Education, Health and Human Sciences. "Most important of all is the sense of accomplishment that presenters feel after a successful presentation. The confidence that they gain carries over to all aspects of their life."
The students presented a variety of semester- or year-long projects at the symposium, including artist statements; scientific, communication, and psychological research presentations; theological papers; and advanced and experiential projects.
Student presenters include (alphabetical by state, city, last name):
Julia Tyree, senior, Benicia, Calif.
Rebekah Brassfield, junior, Centennial, Colo.,
Alexa Radic, senior, Parker, Colo.
Mark Anderson, senior, Morton, Ill.
Samantha McConnell, senior, Atlantic, Iowa
Kendra Vanness, senior, Latimer, Iowa
Michael Grau, senior, Lawton, Iowa
Alyssa Miller, junior, Sioux City, Iowa
Bailey Baker, senior, Busan, Korea
Micah Witt, senior, Faribault, Minn.
Megan Suter, junior, Owatonna, Minn.
Allison Batt, junior, Columbia, Mo.
Sylvia Braun, senior, Jefferson City, Mo.
Sean Carpenter, senior, Hollis, N.H.
Hallick Lehmann, junior, Albion, Neb.
Ann Spilker, sophomore, Ashland, Neb.
Amber Deepe, senior, Deshler, Neb.
Anna Beune, sophomore, Dodge, Neb.
Clarisa White, senior, Exeter, Neb.
Emily Gartner, senior, Lincoln, Neb.
Sydney Olson, senior, Lincoln, Neb.
Lisa Pope, freshman, Lincoln, Neb.
Gideon Soenksen, senior, Lincoln, Neb.
Mitchell Volk, senior, Lincoln, Neb.
Adam Aschenbrenner, senior, Malcolm, Neb.
Kendall Schick, Meadow Grove, Neb.
Angelica Blomenberg, junior, Norfolk, Neb.
Danielle Harstad, senior, Norfolk, Neb.
Sarah Bowe, senior, Omaha, Neb.
Sophie Simonsen, junior, Omaha, Neb.
Mark Campbell, senior, Seward, Neb.
Musa Fofana, junior, Seward, Neb.
Jose Rojas, senior, Seward, Neb.
Elizabeth Sjuts, senior, Seward, Neb
Amanda Snider, senior, Seward, Neb.
Megan Burma, senior, Platte, S.D.
Austin Romine, senior, Fort Worth, Texas
Laura Sattler, senior, East Troy, Wis.