Concordia students present research at 2017 annual academic symposium
Published by Concordia University, Nebraska 5 years ago on Wed, Apr 19, 2017 11:31 AM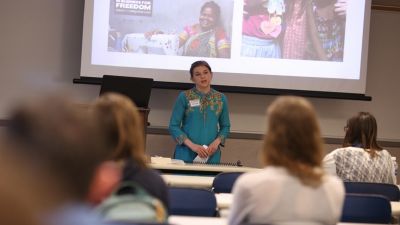 Elizabeth Schmidt from Gretna, Neb., presents at the 7th Annual Academic Research Symposium.
Fifty-one students presented 35 academic projects from a variety of disciplines at Concordia University, Nebraska's 7th annual Academic and Research Symposium on Monday, April 10, 2017.
"The symposium is considered a high-impact experience," said faculty sponsor Dr. Sara Brady, assistant professor of psychology. "The benefits for presenters include sharing their academic accomplishments with the university and gaining experience giving a professional presentation. By completing and presenting a project at the symposium, students spend considerable time and effort on their projects, carefully design the aims of their project or experience, and reflect on their experiences under the guidance of a faculty member. Most important of all is the sense of accomplishment that presenters feel after a successful presentation. The confidence that they gain carries over to all aspects of their life."
The students presented a variety of semester or year-long projects at the symposium, including poster and oral presentations in art, biology, communication, English, education, mathematics, physics, psychology, public health, and social work.
Student presenters include (alphabetical by state, city, last name):
Matt Keener, junior, Lawndale, Calif.
Sarah Huhn, junior, Valley Center, Calif.
Jordyn Sturms, senior, Lone Tree, Colo.
Rachel Brandt, senior, Loveland, Colo.
Justus Thompson, junior, Parker, Colo.
Grace Stange, senior, Lawrenceburg, Ind.
Zachary Barz, senior, Dubuque, Iowa
Hannah Willison, senior, Manning, Iowa
Kailey Bales, freshman, Elkhart, Kan.
Caleb Wehling, senior, Liberal, Kan.
Javier Moreno, junior, Morelia, Michoacán
Jordyne Vanselow, sophomore, Greenwood, Mo.
Sabrina Hayter, junior, Union, Mo.
Ann Spilker, junior, Ashland, Neb.
Kelli Niemeier, senior, Beatrice, Neb.
Elizabeth Plasek, junior, Bee, Neb.
Jose Garcia, junior, Brule, Neb.
Amanda Ruether, junior, Fremont, Neb.
Rachel Hoarty, junior, Geneva, Neb.
Kathie Nguyen, junior, Grand Island, Neb.
Elizabeth Schmidt, junior, Gretna, Neb.
Rachel Duhachek, junior, Hartington, Neb.
Clayton Hintz, senior, Hebron, Neb.
Brett James, senior, Kearney, Neb.
Chris Shelton, senior, Kenesaw, Neb.
Kaylyn Beiermann, sophomore, Lincoln, Neb.
Kohlton Gabehart, junior, Lincoln, Neb.
Lisa Pope, sophomore, Lincoln, Neb.
Taylor Workman, senior, Lincoln, Neb.
Aubri Bro, senior, Papillion, Neb.
Kendall Schick, senior, Meadow Grove, Neb.
Cara Colligan, junior, Norfolk, Neb.
Maria Carabantes, junior, Omaha, Neb.
Tyler Miles, senior, Omaha, Neb.
Lucas Wiechman, senior, Pilger, Neb.
Alayna Kavanaugh, senior, Roca, Neb.
Jonathon Anderson, junior, Seward, Neb.
Cameron Christiansen, senior, Seward, Neb.
Jessica Cox, senior, Seward, Neb.
Ryan Gross, senior, Seward, Neb.
Musa Fofana, junior, Seward, Neb.
Melonie Kotschwar, senior, Seward, Neb.
Charmaine Williams, senior, Seward, Neb.
Joel Ristvedt, junior, Utica, Neb.
Austin Taylor, senior, York, Neb.
Victoria Woodburn, sophomore, York, Neb.
Christine Lind, senior, Sioux Falls, S.D.
Tarence Roby, junior, Memphis, Tenn.
Tyler Nelson, senior, La Porte, Texas
Philip Yox, senior, Mount Pleasant, Texas
Tori Welter, junior, Slinger, Wis.