Concordia students perform First Friday concert in Lincoln
Published by Concordia University, Nebraska 5 years ago on Fri, Jan 22, 2016 9:46 AM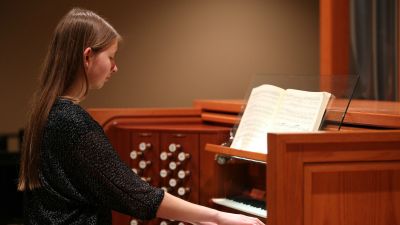 Laura Hedstrom, practicing the organ in the Recital Hall at Concordia, will join five other Concordia organ students to perform in the First Friday Concert/Art Series at Saint Paul United Methodist Church on Feb. 5, 2016.
The art and music departments of Concordia will be featured at Saint Paul United Methodist Church in Lincoln, Nebraska, on Friday, Feb. 5, 2016, at 12:10 p.m. as part of the church's First Friday Concert/Art Series.
Six organ students who have been under the guidance of Professor of Music and University Organist Dr. Jeffrey Blersch and Paul Soulek, a Concordia alumnus and organist at St. John Lutheran Church in Seward, Nebraska, will showcase their talents at the free concert in the sanctuary of the church. They will perform the same concert at Concordia in the Music Center Recital Hall on Sunday, Feb. 7, at 3 p.m.
A $5 dollar lunch will be provided prior to the Saint Paul concert in the Paine Parlor starting at 11:30 a.m., as well as following the performance.
The McKinley Bells will be played by Nancy Shoen from the church tower prior to the concert and broadcast into the sanctuary.
In addition to the concert, the church will display artwork created by Concordia art students in an exhibit in the Paine Parlor of the church during the full month of February.
Saint Paul United Methodist Church is located at 1144 M Street in Lincoln, Nebraska. For more information about Saint Paul's First Friday series, contact Dick Morris at 402-261-3104 or crichardmo@gmail.com.
Concordia student organists who will participate in the concert include:
Austin Theriot, junior, Lake Charles, La.
Thomas Wyatt, senior, Bethel, Minn.
Micah Holten, sophomore, Nicollet, Minn.
Karl Rovey, senior, Springfield, Mo.
Allison Mackie, sophomore, Columbus, Neb.
Laura Hedstrom, junior, Oxford, Neb.