Concordia students lead speech and theatre workshop for Seward High School students
Published by Concordia University, Nebraska 7 years ago on Tue, Sep 30, 2014 11:21 AM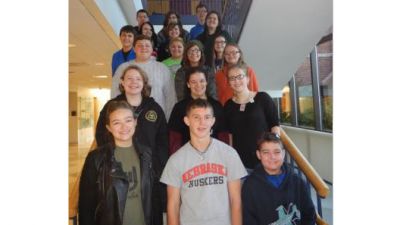 Front row (l-r): Megan Runyan, Lance Dybdal, Levi Dybdal. Second row (l-r): Cheyenne Cox, Amanda Marcov, Taylor Rouse. Third row (l-r): Brodie Oshel, Bella Graves, Makenna Aldrich. Fourth row (l-r): Clarke Chandler, Hailey Brown, Taryn Brandl. Fifth row (l-r): Jenica Hulbert, Michaela Brown, Emma Orwen. Sixth row (l-r): Nolan Homp, Grace Orwen, Zach Vacha. Not photographed: Kyler Nolan.
Nineteen students from Seward High School attended the Theatre and Speech Workshop on Sept. 13 at Concordia. The students attended a variety of workshops on topics such as warm-ups, breathing, relaxation techniques and stage presence. Sessions were presented on general speech, vocals and non-vocals, public speaking, prep time, stage safety and stage combat. The event concluded with a showcase event.
Bryan Moore, director of theatre at Concordia, and Joy Johnson, director of forensics at Concordia, coordinated the event along with Concordia speech and theatre students.
"What an invaluable experience for high school students to have this opportunity to work one-on-one with a college student," Johnson said. "The theatre and speech workshop was also rewarding for the college students, as they gained valuable experience leading sessions, critiquing interpretation exercises and encouraging high school students to challenge their acting abilities."
Students attending from Seward High School included:
Makenna Aldrich
Taryn Brandl
Hailey Brown
Michaela Brown
Clarke Chandler
Cheyenne Cox
Lance Dybdal
Levi Dybdal
Bella Graves
Nolan Homp
Jenica Hulbert
Amanda Marcov
Kyler Nolan
Emma Orwen
Grace Orwen
Brodie Oshel
Taylor Rouse
Megan Runyan
Zach Vacha
Concordia students assisting with the event included:
Kirsten Awe
Andrew Crist
Emily Kollbaum
Ben Leeper
Paul Nelson
Stephanie Shearer
Students attending from Mount Michael Benedictine included:
Cayden Cribbs
Leo McGrath
Joe Melia
Eric Zhang
Students attending from Pierce High School included:
Sam Halsey
Michael Hoctor
Ethen Kuether
Derek Ross
Matthew Williams
Trevor Zellmer
Students attending from Fillmore Central included:
Ben Baltzer
Turner Barbur
Brittany Kremer