Concordia students lead annual One-Act Play Festival
Published by Concordia University, Nebraska 3 years ago on Tue, Apr 4, 2017 11:44 AM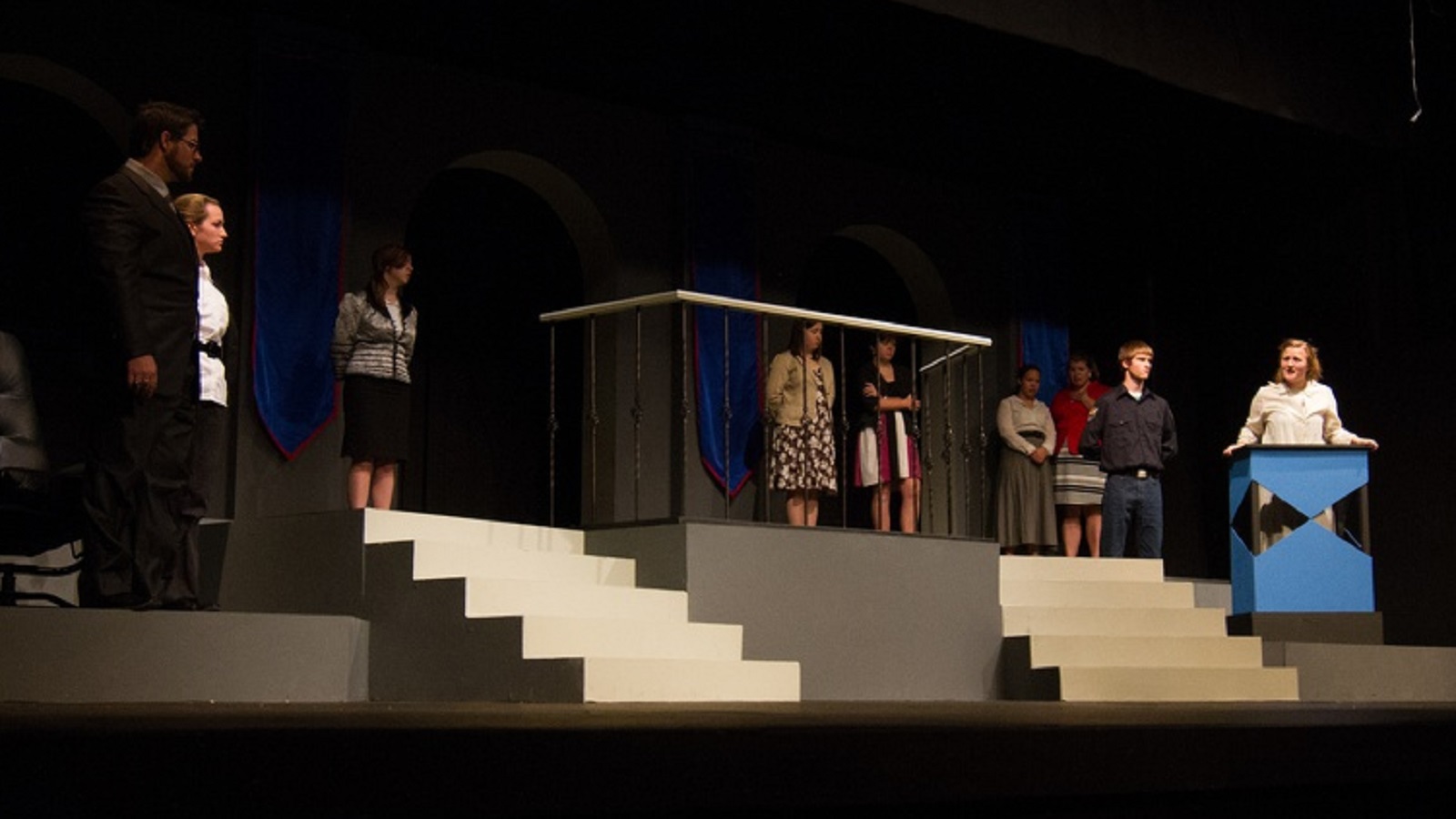 Students of Concordia University, Nebraska, will be performing four one-act plays during the annual One-Act Play Festival, running April 6-8, 2017. The festival begins at 7:30 p.m. in the Studio Theatre in the Music Center on campus.
"This year's directors chose four comedies, including larger ensemble shows, a play in the Italian "commedia dell'arte" style, and a dark comedy," said Bryan Moore, associate professor of communication and theatre. "The shows have proven to be a fun challenge for the directors and actors, and the audience will benefit from the variety of topics and comedic styles presented."
The festival is a component of Concordia's play production course in which the students direct short plays. They each select a play, conduct auditions and rehearse with the cast, culminating in a weekend of their plays.
This year's performances include "Check Please" by Jonathan Rand. This show presents vignettes featuring a guy and girl on blind dates with quirky individuals. Students will also perform "13 Ways to Screw Up Your College Interview," by Ian McWethy, in which two interviewers attempt to find one more student to recommend for their college, but their choices are not promising. Also being presented is "The New Mrs. Jones" by James Armstrong, which is a dark comedy. Finally, "Genre" by Wade Bradford. This comedy explores the many different storytelling styles.
Performers include (in order by play and then student's state, city, and last name):
"Check Please"
Dylan White, junior, Lexington, Neb., director
Allison Caudle, senior, Greeley, Colo., assistant director
Samantha Pietanza, freshman, San Diego, Calif., playing Linda
David Krueger, sophomore, Aurora, Colo., playing Guy
Rebekah Rusert, junior, Truman, Minn., playing Melanie/Sophie
Jenna O'Laughlin, junior, Winona, Minn., playing Watiress
Julia O'Laughlin, freshman, Winona, Minn., playing Mary
Eric James, sophomore, Omaha, Neb., playing Ken/Brandon
Ian Hendrickson, junior, Seward, Neb., playing Manny
Lindsey LaMountain, senior, Seward, Neb., playing Pearl/Mimi
Brodie Oshel, freshman, Seward, Neb., playing Louis/Mark
Abigail Wichael, sophomore, Seward, Neb., playing Girl
Alberto Barrientos, senior, El Paso, Texas, playing Tod
"13 Ways to Screw Up Your College Interview"
Chris Genszler, junior, Oregon, Ohio, director
Breann Huber, freshman, Arvada, Colo, assistant director
Samantha Pietanza, freshman, San Diego, Calif., playing Eve
David Krueger, sophomore, Aurora, Colo., playing Brett
Bethany Schilling, freshman, Littleton, Colo., playing Interviewer 1
Emily Writebol, sophomore, Parker, Colo., playing Jessi
Anne Jesgarz, sophomore, Shelbyville, Ill., playing Bernice
Cole Humble, freshman, Leavenworth, Kan., playing Harold
Rachel Krome, freshman, Fairmont, Minn., playing Producer
Ann Spilker, senior, Ashland, Neb., playing Kelly
Andrea Wiese, senior, Ashland Neb., playing Lily
Peyton Wallage, sophomore, Lincoln, Neb., playing Maria
Melonie Kotschwar, senior, Seward, Neb., playing Jacey
Lindsey LaMountain, senior, Seward, Neb., playing Kimberly
Emma Heidorn, junior, Utica, Neb., playing Emily
Alberto Barrientos, senior, El Paso, Texas, playing Melvin
Rachel Dorn, junior, Houston, Texas, playing Elizabeth
Victoria Cameron, sophomore, Kent, Wash., playing Interviewer 2
"The New Mrs. Jones"
Libby Klein, freshman, Seward, Neb., director
Dorian Doremus, senior, Seward, Neb., assistant director
Cole Humble, freshman, Leavenworth, Kan., playing Mr. Harris
Rebekah Rusert, junior, Truman, Minn., playing Elizabeth McKay
Julia O'Laughlin, freshman, Winona, Minn., playing Mrs. Jones
Ian Hendrickson, junior, Seward, Neb., playing Sam Jones
"Genre"
Emily Jensen, senior, Sioux City, Iowa, director
Emily Kollbaum, senior, Seward, Neb., assistant director
Delaney Doremus, junior, Grimes, Iowa, playing Mama Bear
Dane Pedersen, junior, Columbus, Neb., playing Papa Bear
Chelsea Irwin, junior, Lincoln, Neb., playing Goldilocks
Eric James, sophomore, Omaha, Neb., playing Narrator
Faith Bohaty, senior, Seward, Neb., playing Baby Bear
Madeleine Luehr, junior, Wood River, Neb., playing Princess