Concordia students honored with Nebraska AIGA awards
Published by Concordia University, Nebraska 12 years ago on Wed, Nov 17, 2010 6:23 PM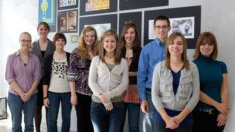 Nine Concordia students brought home awards from the AIGA competition. Pictured (l-r) are Tiffany Frerichs, Valerie Schick, Alyssa Belgum, Katrina Schulteis, Lacey Brozek, Hannah Woollen, Adam Birt, Lindsey Ellis and Danielle Cornish.
Nine Concordia art students were honored at the annual design competition held by Nebraska AIGA on Friday, Nov. 5, in Omaha. A photograph by Tiffany Frerichs, a senior from Bloomington, Neb., and an illustration by junior Hannah Woollen of Wilcox, Neb. earned gold awards.
The competition is judged by professionals from across the country. This year Brendan Callahan, associate art director for Dwell Magazine and co-founder of Semigood Design; Steve Frykholm, creative director and vice president of Herman Miller; and R. Lance Garcia, creative lead at Sampient, selected the winners. Both students and professional artists entered pieces to be judged.
"It is a good way to have artwork seen by others who entered the competition, whether they are students, professors or other professionals," said Valerie Schick, a senior from Meadow Grove, Neb. Schick has earned recognition each of the three times she has entered pieces in the show. This year she earned two bronze awards for her illustrations.
As an organization, AIGA includes working professionals, educators and students in 65 chapters and more than 240 student groups.
Concordia award recipients
Gold Award:
Tiffany Frerichs, Senior, Bloomington, Neb., untitled photograph
Hannah Woollen, Junior, Wilcox, Neb., "MoMA" illustration
Silver Award:
Danielle Cornish, Senior, Ashland, Neb., "Hawa Mahal" illustration
Bronze Award:
Adam Birt, Senior, Longmont, Colo., "Disconnected" poster
Alyssa Belgum, Senior, Hastings, Neb., "Begin to Hope" packaging
Lacey Brozek, Senior, Lincoln, Neb., "King Harold" illustration
Lindsey Ellis, Senior, Papillion, Neb., "Candy Apple Red" photograph
Valerie Schick, Senior, Meadow Grove, Neb., "Fairy Tale" illustration and "The Giver" illustration
Katrina Schulteis, Junior, Greenfield, Iowa, "Rapunzel" illustration