Concordia student to exhibit art in International Drawing Exhibition and in a solo exhibition
Published by Concordia University, Nebraska 5 years ago on Fri, Jan 26, 2018 11:12 AM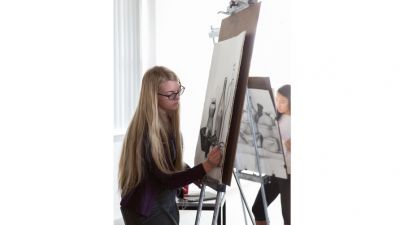 Concordia University, Nebraska, student Jordyne Vanselow's work will be featured in Drawing Discourse, the University of North Carolina (UNC) 9th Annual Asheville's International Contemporary Drawing Exhibition from Jan. 19 through Feb. 23 in the S. Tucker Cooke Gallery.
Vanselow's drawing, "DANGER: Do Not Stand or Sit," is one of forty-eight pieces selected for the exhibition. UNC Asheville's juror, artist Stuart Shils, made his selection from over eleven hundred entries submitted by 400 artists from over 8 countries, a submission record. The exhibition intends to stress the important practice of drawing in contemporary art through many different styles.
"It's neat for a show to have such a wide range of what contemporary drawing can envelope," said Vanselow. "My submission consisted of a series of photographs showing the progression of a figure going down a ladder. The different poses of the figure in comparison to the background creates their own lines and pattern in an exploration of linear interaction."
The exhibition will be on display in UNC Asheville's S. Tucker Cooke Gallery from Jan. 19, through Feb. 23. The gallery is open 9 a.m. to 6 p.m., Monday–Friday and is free and open to the public.
Jordyne Vanselow is a third year art student from Kansas City, Missouri. She is currently earning a Bachelor of Fine Arts in Art Education with a K-12 Endorsement in Art.
In addition the UNC exhibition, Vanselow will present a solo exhibition at Primary Colors Gallery in Independence, Missouri. Her exhibit, titled Spine, is the second one she's displayed at the gallery. It features life-size drawings of the spinal column and progressively breaks it down to show certain vertebrates or bones separately.
"I wanted to focus on the physicality of drawing as a movement of processes and the body. The materials I use to create react sensitively to my own movements too. But there's still that recognizable structure and the control of those movements in both the spine and my own drawing."
The exhibit will be on display from Jan. 19 through Feb. 17. It is open to the public and free of charge. Primary Colors Art Gallery is open 10 a.m. to 6 p.m., Tuesday–Saturday and is closed Sunday and Monday.