Concordia Speech Team Shatters School Records for Finalists, Nationals Bids
Published by Concordia University, Nebraska 3 years ago on Thu, Nov 16, 2017 9:23 AM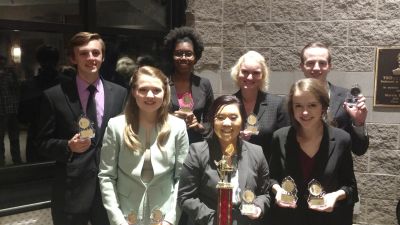 Concordia students (Back row L-R) Jacob Garrison, Tationa Trice, Melody Niemoth, Will Helmer and (Front row L-R) Katie Funk, Lindsay Range and Grace Koehn stand with their awards at the Vocal Viking Speech Tournament in Mankato, Minnesota on Oct. 28.
The Concordia Speech Team has secured 13 qualifying event bids to the National Forensics Association and American Forensic Association National Championship, multiple finalist and semifinalist awards, and broken several school records in their first seven weekends of competition.
Records broken include breaking the record for number of finalists in a single weekend of competition, number of nationals bids achieved in a single month, and fastest time to qualify an event by a single competitor.
"This is a very strong result for our team, especially with nearly half of our team being in their first year of intercollegiate competition," said Andrew Moffitt, Director of Forensics. "This is a great indicator of our next generation of competitors, and the team is passionate to continue to grow and develop as we move forward into the remainder of the season."
Speakers for Concordia have qualified a total of 13 events to the NFA National Championship, which will be held in April at the University of Wisconsin-Oshkosh. Sophomores Will Helmer, Katie Funk, and freshmen Grace Koehn each have qualified two events to nationals. Juniors Melody Niemoth and Tationa Trice, sophomores Faith Osborn, Payton DeMers-Sahling, Lindsay Range and Taryn Thomas, and freshmen Jacob Garrison and Malia Ebel have qualified for one event so far.
The team has advanced 25 finalists, who have placed in the top 4-6 competitors of their respective event, in seven tournaments. This number includes several events that have advanced multiple times to finals, on top of their national qualifying placings.
Director Moffitt is confident that this success will be continued, saying "with nine tournaments left in the regular season, we expect to grow this list as we debut new event entries and strengthen current events that are showing real promise. The number of current bids attained this year alone, in seven weeks, is more than the entire number of bids achieved in the 2016-17 competition season."