Concordia Speech Team ramps up for Nationals with special showcase
Published by Concordia University, Nebraska 4 years ago on Thu, Mar 29, 2018 10:21 AM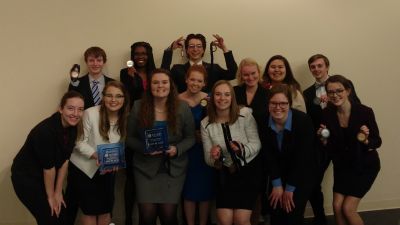 Concordia Speech Team to perform special showcase prior to national tournament.
Eighteen nationally-ranked speakers from the Concordia Speech Team will perform speeches in a showcase titled "Night Before Nationals" at 6 p.m. on Thursday, April 12.
Attendees will watch forensics performances by students who have qualified to compete at this year's American Forensics Association National Individual Events Tournament (AFA-NIET), the National Forensic Association National Championship and the National Speech Championship. Only competitors of the highest caliber are allowed to participate in these tournaments, which include 18 students from Concordia.
"This is a great chance for our team to show what we do to a wider audience," explains Andrew Moffitt, director of Forensics at Concordia. "We have been blessed to have a successful season with a very young team, and we are looking forward to sharing our success with our students, staff and the public."
The showcase will take place in the Thom Leadership Education Center Auditorium on Concordia's campus and is free and open to the public.
Students participating in the showcase include (Listed by state, city, last name and event):
Nebraska
Katie Funk, Clearwater, Neb., Prose Interpretation and Dramatic Interpretation
Jacob Garrison, Malcolm, Neb., Dramatic Interpretation and Duo Interpretation
Lindsay Range, Monroe, Neb., Program Oral Interpretation
Luke Blomenberg, Norfolk, Neb., After Dinner Speaking
Avery Kesar, Omaha, Neb., Duo Interpretation and Prose Interpretation
Will Helmer, Seward, Neb., Impromptu Speaking
Melody Niemoth, South Bend, Neb., Informative and Persuasive Speaking
Payton DeMers-Sahling, York, Neb., Poetry Interpretation
Nora Fiberg, York, Neb., Duo Interpretation
Kansas
Taryn Thomas, Overland Park, Kans., Communication Analysis
Missouri
Grace Koehn, St. Louis, Mo., Dramatic Interpretation and Duo Interpretation
Tationa Trice, St. Louis, Mo., Prose Interpretation and Poetry Interpretation
Montana
Malia Ebel, Billings, Mont., Extemporaneous Speaking
North Dakota
Faith Osborn, Oakes, N.D., Dramatic Interpretation