Concordia Speech Team ramps up for Nationals
Published by Concordia University, Nebraska 3 years ago on Mon, Mar 18, 2019 11:39 AM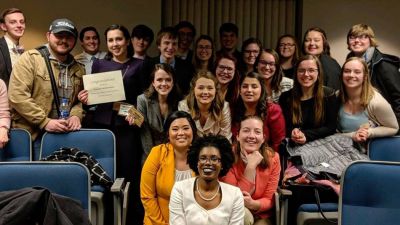 Members of the Concordia speech team prepares for upcoming national tournament April 4-6 at the University of Alabama.
Ten students from the Concordia University, Nebraska Speech Team have qualified to compete at this year's American Forensics Association National Individual Events Tournament (AFA-NIET), the National Forensic Association National Championship and the National Speech Championship on April 4-6.
Freshman Nathan Leonard was the latest to qualify for nationals in Impromptu earlier this month, making it an even 10 students to compete in nationals. Only competitors of the highest caliber are allowed to participate in these tournaments.
"With this qualification, our team officially quadrupled our number of events for the AFA National Tournament compared to last year," explained Joe Davis, director of forensics at Concordia. "We've grown from three students in four events to 10 students in 17 events."
Individual members are also breaking records such as freshman Philomena Williams, the first Concordia student to qualify for four events at AFA Nationals. Williams qualified for Poetry with three first placings and Program Oral Interpretation in only three tries. She also got second at the State Tournament in Dramatic Interpretation and fourth in Duo Interpretation with her partner, senior Tationa Trice.
Students headed to Nationals include (Listed by state, city and last name):
Taryn Thomas, junior, Overland Park, Kan., Informative and Prose
Nathan Leonard, freshman, Topeka, Kan., Impromptu
Philomena Williams, freshman, Independence, Mo., Dramatic Interpretation, Duo Interpretation Poetry and Program Oral Interpretation
Grace Koehn, sophomore, St. Louis, Mo., Program Oral Interpretation
Tationa Trice, senior, St. Louis, Mo., Dramatic Interpretation, Duo Interpretation and Prose
Malia Ebel, sophomore, Billings, Mont., Impromptu and Extemporaneous Speaking
Katie Funk, junior, Clearwater, Neb., Prose
Alia Hurst, freshman, Fairmont, Neb., Program Oral Interpretation and Prose
Jacob Garrison, sophomore, Malcolm, Neb., Dramatic Interpretation
Lindsay Range, sophomore, Monroe, Neb., Poetry