Concordia speech team makes history at nationals
Published by Concordia University, Nebraska 3 years ago on Wed, Apr 17, 2019 12:13 PM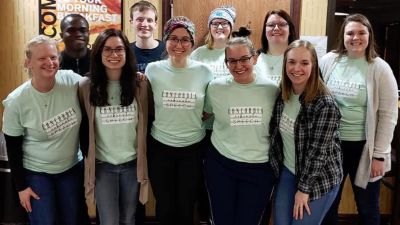 Concordia University, Nebraska speech team members and coaches at the NCCFI tournament in Salina, Kansas.

Concordia University, Nebraska's speech team is ranked in the top 25 nationally after competing in the American Forensic Association's National Individual Events Tournament (AFA-NIET) April 5-7 in Tuscaloosa, Alabama, and in the National Christian College Forensics Invitational (NCCFI) March 14-16 in Salina, Kansas.
"As a team, we are now ranked 23rd in the nation when we were only 47th last year," said Joe Davis, speech team head coach. "We definitely made history this past week with our performance!"
At AFA-NIET, freshmen Alia Hurst and Philomena Williams both broke through to quarterfinals. Williams also went to quarterfinals in Poetry, a field narrowed from 100 competitors to only 28 advancing.
Two weeks earlier, at NCCFI, individuals placed highly in their events. Sophomore Treianne Park placed second in Novice Dramatic Interpretation and sixth in Novice Prose. Additionally, freshman Madison Glendy placed sixth in Novice Poetry, and junior Payton Demers-Sahling placed fifth in Varsity Dramatic Interpretation. As a whole, the team placed second and received the Fellowship Award for demonstrating strong character.
The team will begin preparing for the 2019-20 season in August with its pre-season camp.
Students who went to nationals include (Listed alphabetically by state, city and last name):
Jallah Bollay, sophomore, Colby, Kan., NCCFI for Dramatic Interpretation and Impromptu
Taryn Thomas, junior, Overland Park, Kan., AFA for Informative and Prose
Nathan Leonard, freshman, Topeka, Kan., AFA for Impromptu
Philomena Williams, freshman, Independence, Mo., AFA for Dramatic Interpretation, Duo Interpretation, Poetry and Program Oral Interpretation
Grace Koehn, sophomore, St. Louis, Mo., AFA for Program Oral Interpretation
Tationa Trice, senior, St. Louis, Mo., AFA for Dramatic Interpretation, Duo Interpretation and Prose
Malia Ebel, sophomore, Billings, Mont., AFA for Extemporaneous Speaking and Impromptu
Faith Greenmyer, junior, Oakes, N.D., undergraduate student assistant
Bar-Lee Klein, freshman, Arapahoe, Neb., NCCFI for After Dinner Speaking
Katie Funk, junior, Clearwater, Neb., AFA for Prose
Alia Hurst, freshman, Fairmont, Neb., AFA for Program Oral Interpretation and Prose
Madison Glendy, freshman, Hemingford, Neb., NCCFI for Poetry
Treianne Park, sophomore, Loomis, Neb., NCCFI for Dramatic Interpretation and Prose
Jacob Garrison, sophomore, Malcolm, Neb., AFA for Dramatic Interpretation
Lindsay Range, sophomore, Monroe, Neb., AFA for Poetry
Will Helmer, junior, Seward, Neb., NCCFI for Extemporaneous Speaking and Impromptu
Payton Demers-Sahling, junior, York, Neb., NCCFI for Dramatic Interpretation and Program Oral Interpretation