Concordia Speech Team finishes second in state championship meet
Published by Concordia University, Nebraska 4 years ago on Fri, Mar 2, 2018 11:03 AM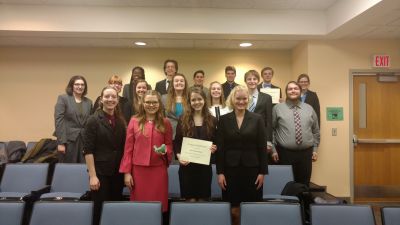 Concordia Forensics Team members (Back row L-R) Tationa Trice, Avery Kesar, Joe Davis, Luke Blomenberg, Jacob Garrison, Taryn Thomas, (Middle row L-R) Amelia Schlichting, Whitney Borchardt, Sarah Benz, Payton DeMers-Sahling, Faith Osborn, Will Helmer, Andrew Moffitt, (Front row L-R) Malia Ebel, Katie Funk, Grace Koehn, and Melody Niemoth celebrate their success at the NIFA State Tournament at the University of Nebraska-Kearney.
Concordia's Speech Team recently competed in the Nebraska Intercollegiate Forensics Association (NIFA) State Championship and placed second in their division.
The tournament took place at the University of Nebraska, Kearney, on Feb. 10 with all college and university speech programs in Nebraska competing, including 4 of the top 20 teams in the nation. In order to place in the NIFA Team Championship, the team's preliminary and final round scores were assigned a point value, and rated against other schools. As a result of their collective team effort, Concordia placed second in the medium school (Division II) category, and advanced two competitors to the final round of competition. This marks the second year in a row that Concordia has placed in Team Championship, and the first time CUNE has advanced finalists in speech events in over a decade.
"This is a major turning point in the continued development of our team," said Andrew Moffitt, director of forensics at Concordia. "I am proud that we not only advanced competitors to finals but also moved up in Team Championship standings, which are both important benchmarks we have been shooting for all year."
Sophomores Katie Funk and Taryn Thomas were finalists in the events of Dramatic Interpretation and Communication Analysis, respectively. Additionally, Freshmen Grace Kohen and Jacob Garrison were recognized at the top novice competitors in Duo Interpretation.
Funk, a senior member of the young team, said "I'm excited that our team is evolving and growing. Being a part of a building and growing program can be tough, but we've come so far and have so much farther to grow. I'm glad I get to experience this. We have such a young team, and we're starting to let our competitors know that we aren't going anywhere soon. We are going to leave our mark."
Concordia's Speech Team will stay busy over the next two months as it prepares for the National Speech Championship, to be held in Lincoln, Nebraska on March 24-25. Furthermore, the team will be preparing for April, when they will attend both the American Forensic Association in Colorado Springs, Colorado, and National Forensics Association National Championships in Oshkosh, Wisconsin.