Concordia Speech Team Finds Success at Christian Nationals
Published by Concordia University, Nebraska 4 years ago on Thu, Apr 6, 2017 11:42 AM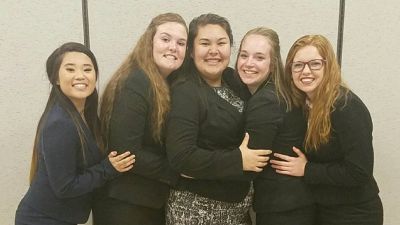 Concordia University, Nebraska speech team members who competed at the National Christian College Forensics Championship (left to right): Lindsay Range, Payton DeMers-Sahling, Hannah Sugita, Faith Osborn and Nora Fiberg.
Concordia University, Nebraska's Speech Team recently competed in the National Christian College Forensics Championship earning multiple finalist awards and won a third place Individual Events Sweepstakes overall for Division III schools.
The tournament took place at Grand Canyon University in Glendale, Arizona March 18–20, 2017. The team competed against speakers from 22 other Christian colleges from around the country.
"This was a great result for our team, especially with nearly all of the students on our team being first year college competitors," said Concordia's director of forensics, Andrew Moffitt. "This is a validation of our freshman team core, and the team is excited to continue to grow and develop as we move forward into a big year next year."
At the tournament, Nora Friberg and Lindsay Range took 6th place overall in Duo Interpretation, while also being ranked 2nd among novice (first year) competitors. Additionally, freshmen Faith Osborn and Payton DeMers-Sahling, and sophomore Hannah Sugita had strong showings in preliminary rounds, advancing to being within one place of advancing to finals in nearly all of their events.
"With a strong core of second and third year competitors, along with a large incoming freshman class, we are poised for continued growth and competitive success as we finish this season, and begin to prepare for next year," added Moffitt. "We are confident that we will continue to grow as a team competitively, and continue to be among the top 10 best Christian Speech programs in the country."
Concordia University, Nebraska will wrap up its 2016–2017 competitive speech season by sending five competitors to the National Forensic Association National Championship, to be held at the University of Wisconsin-Eau Claire on April 13–17, 2017.
Concordia students who participated in the NIFA State Championship include:
Hannah Sugita, sophomore, Grand Island, Neb.
Payton DeMers-Sahling, freshman, York, Neb.
Faith Osborn, freshman, Oakes, N.D.
Lindsay Range, freshman, Monroe, Neb.
Nora Fiberg, freshman, York, Neb.