Concordia Speech Team finds continued success at Nationals
Published by Concordia University, Nebraska 4 years ago on Fri, May 4, 2018 11:15 AM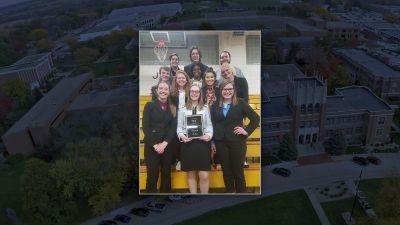 Concordia Forensics Team members (Back row L-R) assistant director Joe Davis, Avery Kesar, director Andrew Moffitt, (Middle row L-R) Will Helmer, Tationa Trice, Melody Niemoth, (Middle row L-R) Katie Funk, Lindsay Range, (Front row L-R) Malia Ebel, Faith Osborn and Taryn Thomas.
Concordia's Speech Team competed in the National Forensic Association National Championship at the University of Wisconsin-Oshkosh on April 19-23 and placed seventh in their district.
The Concordia University, Nebraska Speech Team earned 7th in Individual Events Sweepstakes for Division III schools at the tournament competing against speakers from 76 other colleges and universities from around the country who qualified to participate in the tournament.
"This was a great result for our team, especially with nearly all of the students attending from Concordia being first and second year college competitors," said Andrew Moffitt, director of forensics. "This is a validation of our team core's focus on development, and the team is excited to continue to grow and develop as we move forward into another big year next year."
The team sweepstakes award is a cumulative award for the efforts of all students on a team. Several Concordia students, including sophomore Lindsay Range and sophomore Will Helmer, placed in the top 55 in the nation in their events. Additionally, freshman Avery Kesar was honored as an octo-finalist in Prose Interpretation, and sophomore Taryn Thomas earned 5th place in Novice Rhetorical Criticism, becoming CUNE's first national finalist at the NFA National Championship.
This award caps off a successful year for Concordia Speech as it has already earned nearly 90 regular season finalist placings. Concordia is one of only five schools to advance as a finalist at the Nebraska Intercollegiate Forensics Association State Championship and is now ranked among the top 40 collegiate speech teams in the nation by the National Forensic Association.
Director Moffitt is confident that the efforts of his team will continue to pay dividends, saying "with a strong core of second and third year competitors having won team awards at the state and national level, along with a large and diverse incoming freshman class, we are poised for continued growth and competitive success as we begin to prepare for next year. We are confident that we will continue to grow as a team competitively, and continue to be among the top 10 best Christian Speech programs in the nation."
CUNE will begin to prepare for next season, with the first tournament of the 2018-19 Speech season scheduled for September 22-23 at Northwest Missouri State University.