Concordia speech team advances at 2020 state championship
Published by Concordia University, Nebraska 3 years ago on Thu, Mar 5, 2020 9:23 AM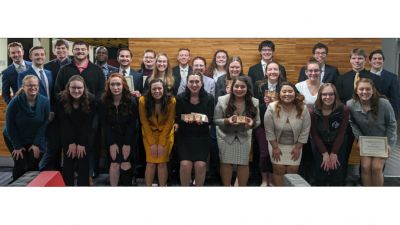 Back row left to right: Adam Hiles, Luke Blomenberg, Jallah Bolay, Zipporah Johnson, Michael Grundtsrom, Payton Demers-Sahling, Trevor Toft, Nathan Leonard, Joe Davis (Director of Forensics). Middle row left to right: Jacob Garrison, Dalton Bergstrom (travel coach), Spencer Humphreys, Nicholle Harstad, Marlaena Sucha, Trei Park, Jayson Klaumann. Front row left to right: Erica Lamm (Assistant Director of Forensics), Morgan Fischer, Angelina Stinson, Allison Marshall, Philomena Williams, Alia Hurst, Lindsay Range, Faith Greenmyer, Sabrina Reed
Concordia University, Nebraska's speech team recently competed in the Nebraska Intercollegiate Forensics Association (NIFA) State Championship at the University of Nebraska, Omaha Feb. 15.
The tournament field included all college and university speech programs in Nebraska. In order to place in the NIFA Team Championship, the team's preliminary and final round scores were assigned a point value and rated against other schools. As a result of their collective team effort, Concordia is now ranked No. 4 among all teams in Nebraska, improving upon last year's placement of No. 7.in the medium school (Division II) category. The team not only moved up in rank, but also switched to the open division for larger teams.
"NIFA was a great tournament for Concordia," said Joe Davis, Director of Forensics. "Our students worked hard and doubled the number of finalists from the year before. I'm most proud of our entry at the tournament. We had 18 competitors at the state tournament, which was the most of any team in Nebraska".
Results of NIFA included Philomena Williams finishing in fifth place for dramatic interpretation, second place in program oral interpretation and third in poetry. Spencer Humphreys and Sabrina Reed earned top novice in duo interpretation, Alia Hurst finished fourth in informative speaking and Taryn Thomas placed sixth in oratory. In impromptu, Zipporah Johnson earned top novice and Malia Ebel earned fifth place, qualifying her for the American Forensics Association National Tournament (AFA).
Junior Lindsay Range was nominated for the Spirit of NIFA Award. These nominations go to students who other teams in the circuit believe uphold the character and attitude of the ideal Nebraska competitor. To be nominated is to recognize one's contributions to the community on a personal and social level.
"NIFA is truly indescribable," said Range. "It was a blessing to be surrounded by the most incredible speakers in our state. It was also an honor to be nominated for the Spirit of NIFA Award, alongside some of my closest friends from other teams. This past Saturday only deepened my love for Speech and the people that make it great."
Following the State Tournament, the speech team competed at Hastings College at the Bronco Bash Feb. 22-23. Day one results included Jacob Garrison finishing second for dramatic interpretation and qualifying for AFA tournament and Ebel placing second in extemporaneous, also qualifying for AFA. Humphreys and Reed finished fifth in duo interpretation, Thomas placed third in informative speaking and Alia Hurst finished third in program oral interpretation. In poetry, Reed placed fifth and Angelina Stinson placed second and Williams placed third in prose.
Day 2 Results were comprised of Ebel finishing fifth in communication analysis, Hurst placing third in program oral interpretation and Thomas earning fifth in informative speaking and second in persuasive speaking. In extemporaneous, Johnson placed third and Michael Grundtsrom placed second. Stinson placed fifth in persuasive speaking, poetry and program oral interpretation. Jallah Bolay finished fifth in impromptu and Reed placed fourth in poetry. Williams earned second in prose, qualifying for AFA.
Additionally, the speech team competed at the Battle for the Capitol at University of Nebraska- Lincoln Feb. 29-30. Day 1 results were comprised of Hurst in second place in program oral interpretation and in dramatic interpretation, qualifying for AFA, Reed and Humphreys finishing third in duo interpretation and Bolay placing fourth for impromptu. Jayson Klaumann placed sixth in informative speaking, Stinson placed fifth in program oral interpretation and fourth in poetry and Reed placed third in poetry. Thomas earned first place in persuasive speaking and informative speaking, qualifying for AFA, and Garrison placed first in prose. The team placed first in team sweeps.
Day 2 results included Humphreys finishing third in dramatic interpretation, Humphreys and Reed earning third place in duo interpretation and Trevor Toft placing fifth in informative speaking. Stinson earned fourth place in persuasive speaking, sixth place in poetry and fifth place in program oral interpretation. Reed finished in first in poetry and sixth in prose. Hurst placed second in program oral interpretation, Thomas finished first in persuasive speaking and Humphreys earned first in prose, all qualifying for AFA. The team placed second in team sweeps for Day 2.
Concordia's speech team will continue their season with a final regular-season tournament at Concordia College in Moorehead, Minnesota March 7-8. The American Forensic Association National Tournament will take place in Santa Ana, California April 1-7.
Members of the 2019–20 Concordia speech team (listed by home state, home city and then last name in alphabetical order, with Nebraska listed first):
Nebraska
Zoe Sjuts, freshman, Bancroft, Neb.
Bailey Mooney, freshman, Bee, Neb.
Julia Witt, freshman, Columbus, Neb.
Sabrina Reed, freshman, Crete, Neb.
Katie Funk, senior, Clearwater, Neb.
Jayson Klaumann, freshman, Fairbury, Neb.
Alia Hurst, sophomore, Fairmont, Neb.
Zipporah Johnson, freshman, Hastings, Neb.
Trevor Toft, freshman, Holdrege, Neb.
Treianne Park, junior, Loomis, Neb.
Jacob Garrison, junior, Malcolm, Neb.
Lindsay Range, senior, Monroe, Neb.
Luke Blomenberg, junior, Norfolk, Neb.
Nicholle Harstad,, junior, Norfolk, Neb.
Sarah Sugita, sophomore, Norfolk, Neb.
Morgan Fischer, freshman, North Platte, Neb.
Marlaena Sucha, sophomore, Riverdale, Neb.
Elisha Meyer, freshman, Seward, Neb.
Payton Demers-Sahling, senior, York, Neb.
Illinois
Adam Hiles, junior, Carlyl, Ill.
Indiana
Janis Wagner, sophomore, Indianapolis, Ind.
Kansas
Jallah Bolay, junior, Colby, Kan.
Taryn Thomas, senior, Overland, Kan.
Nathan Leonard, sophomore, Topeka, Kan.
Minnesota
Whitney Borchardt, sophomore, Henning, Minn.
Allison Marshall, junior, Woodbury, Minn.
Missouri
Philomena Williams, sophomore, Independence, Mo.
Grace Koehn, junior, Saint Louis, Mo.
Montana
Malia Ebel, junior, Billings, Mont.
North Dakota
Faith Greenmeyer, Oakes, N.D.
Ohio
Spencer Humphreys, freshman, Boardmann, Ohio
South Dakota
Michael Grundtsrom, junior, South Dakota
Wisconsin
Sarah Benz, junior, Campbellsport, Wis.
Wyoming
Angelina Stinson, freshman, Cheyenne, Wyo.