Concordia Speech Team advances at 2019 State Championship
Published by Concordia University, Nebraska 3 years ago on Fri, Feb 15, 2019 11:40 AM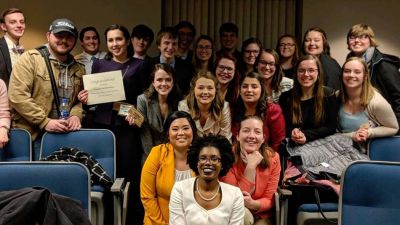 Concordia Forensics Team have qualified six for the national tournament April 4-7 at the University of Alabama.
Concordia University, Nebraska's Speech Team recently competed in the Nebraska Intercollegiate Forensics Association (NIFA) State Championship and broke through to the finals in three events.
The tournament took place at the University of Nebraska, Lincoln, on Feb. 9 with all college and university speech programs in Nebraska competing, including three of the top 12 teams in the nation. In order to place in the NIFA Team Championship, the team's preliminary and final round scores were assigned a point value, and rated against other schools. As a result of their collective team effort, Concordia placed seventh in the medium school (Division II) category, and advanced three competitors to the final round of competition. Six students (Tationa Trice, Taryn Thomas, Malia Ebel, Alia Hurst, Philomena Williams and Jacob Garrison) qualify for the national tournament.
Trice, a senior and Williams, a freshman, placed fourth in Duo Interpretation. Williams also qualified for nationals in Dramatic Interpretation by placing second. Additionally, Ebel, a sophomore, placed sixth in the Extemporaneous category.
Furthermore, Trice was nominated by two different schools for the Spirit of NIFA Award. These nominations go to students who other teams in the circuit believe uphold the character and attitude of the ideal Nebraska competitor. To be nominated is to recognize one's contributions to the community on a personal and social level.
"The Spirit of NIFA Award is one of the proudest accomplishments a student can earn in Nebraska speech," said Joe Davis, director of forensics at Concordia. "Tationa is a loving leader deserving of such a nomination. And as the only graduating senior on our team, we have high hopes for next year too."
Concordia's Speech Team will continue their season with tournaments at University of Nebraska, Omaha Feb. 16-17, Hastings College Feb. 23-24 and Doane University March 2-3. The American Forensic Association National Tournament will take place in Tuscaloosa, Alabama from April 4-7.
Members of the Concordia Speech Team include (listed alphabetically by state, city, and then last name):
Jallah Bolay, senior, Colby, Kan.
Taryn Thomas, junior, Overland Park, Kan.
Broderick Schofield, freshman, Sylvan Grove, Kan.
Nathan Leonard, freshman, Topeka, Kan.
Whitney Borchardt, sophomore, Henning, Minn.
Philomena Williams, freshman, Independence, Mo.
Grace Koehn, sophomore, St. Louis, Mo.
Tationa Trice, senior, St. Louis, Mo.
Malia Ebel, sophomore, Billings, Mont.
Faith Greenmyer, junior, Oakes, N.D.
Bar-Lee Klein, freshman, Arapahoe, Neb.
Katie Funk, junior, Clearwater, Neb.
Alia Hurst, freshman, Fairmont, Neb.
Madison Glendy, freshman, Hemingford, Neb.
Treianne Park, sophomore, Loomis, Neb.
Jacob Garrison, sophomore, Malcolm, Neb.
Lindsay Range, junior, Monroe, Neb.
Luke Blomenberg, sophomore, Norfolk, Neb.
Nicholle Harstad, freshman, Norfolk, Neb.
Marlaena Sucha, freshman, Riverdale, Neb.
Will Helmer, junior, Seward, Neb.
Sarah Benz, sophomore, Campbellsport, Wis.