Concordia speech and debate takes first at California Baptist University tournament
Published by Logan Tuttle 7 months ago on Fri, Nov 5, 2021 12:19 PM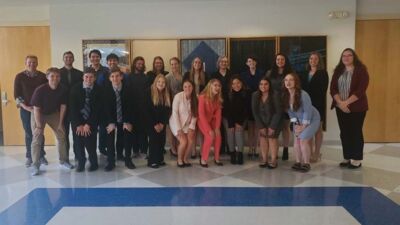 Members of the Concordia Speech and Debate team who participated in the Halloween Thing Tournament on Oct. 30 were, from left: (front row) Jayson Klaumann, Brody Schofield, Thomas Welch, Abby VanVelson, Tori Perry, Anna Hoier, Sarah Sugita, Alia Hurst and Angelina Stinson; and (back row) Michael Grundstrom, Alex Vieselmeyer, Trevor Toft, Tristin Kinderknecht, Josh Burmeister, Veslemøy Huglen, Abby Nugent, Madelyn Graham, Zipporah Johnson, Madi Kurtz, Tori Race, Abby Gutz and Daisy Cody.
Concordia's speech and debate team won the team sweepstakes at the Norene Hokett Invitational (Asynchronous) tournament, hosted by California Baptist University (CBU) Oct. 26-31, where they competed against 10 teams from Arizona, California, Illinois, Kansas and Oklahoma.
The team is having a strong start to its early season—with Sabrina Reed and Jayson Klaumann already qualifying for the national tournament in April.
"It's so exciting to see such progress for the team," Malia Frerking, a graduate assistant coach, said. "I am so proud of everyone and I hope that this is the start to even more wins this season."
At the CBU tournament, Klaumann, a junior from Fairbury, Nebraska, was first in informative speaking, qualifying him for the national tournament. Angelina Stinson, a junior from Cheyenne, Wyoming, was first in prose, while Sabrina Reed, a junior from Crete, Nebraska, finished third. Gwen Gaunt, a sophomore from Hastings, Nebraska, was first in dramatic interpretation.
Tristin Kinderknecht, a sophomore from Salina, Kansas, placed first in both extemporaneous speaking and impromptu speaking. Alex Vieselmeyer, a sophomore from Amherst, Colorado, was first in after dinner speaking, second in extemporaneous and third in impromptu.
The team also competed at the Halloween Thing, a synchronous tournament hosted by Doane University and the University of Nebraska-Omaha on Oct. 30. Kinderknecht, who placed fifth in impromptu, was the team's lone top-5 finisher.
Concordia Speech and Debate's Upcoming Schedule
Nov. 8 - Southwest Minnesota State University (asynchronous)
Nov. 14 - Hastings College (synchronous)
Dec. 4 - University of Wisconsin-Whitewater (synchronous)