2016 Concordia seniors present capstone of college artwork at Marxhausen Gallery of Art
Published by Concordia University, Nebraska 6 years ago on Fri, Apr 1, 2016 11:47 AM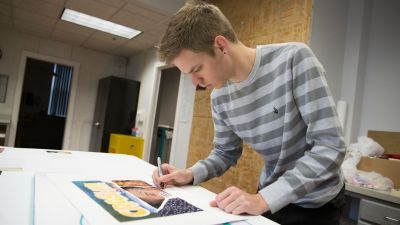 Concordia senior Mitchell Volk puts finishing touches on his artwork for the Bachelor of Fine Art Senior Thesis exhibition at Concordia.
Nine seniors will showcase their work in the Bachelor of Fine Art Senior Thesis exhibition at Concordia University, Nebraska. The show will begin on April 3, 2016, in the Marxhausen Gallery of Art. An opening reception will be in the gallery on Sunday, April 10, from 1 to 4 p.m. A gallery talk with the featured students will take place at 2 p.m. The exhibition will run through April 15.
This show serves as the capstone experience for students earning a Bachelor of Fine Arts in graphic design, art education or studio art. The students' goal for the show is to create a series of new, relating works that present their highest achievement in upper-level studio art courses.
The exhibit is open to the public and free of charge. The Marxhausen Gallery is located in Jesse Hall and is open Monday–Friday from 11 a.m. to 4 p.m. and Saturday and Sunday from 1 p.m. to 4 p.m.
Students participating in the exhibition include (alphabetical order by state/country, city, last name):
Bailey Baker, Busan, Korea
Micah Witt, Faribault, Minn.
Sylvia Braun, Jefferson City, Mo.
Amber Deepe, Deshler, Neb.
Mitchell Volk, Lincoln, Neb.
Danielle Harstad, Norfolk, Neb.
Sarah Bowe, Omaha, Neb.
Austin Romine, Fort Worth, Texas
Laura Sattler, East Troy, Wis.