2018 Concordia seniors present capstone of college artwork at Marxhausen Gallery of Art
Published by Concordia University, Nebraska 5 years ago on Fri, Apr 13, 2018 11:57 AM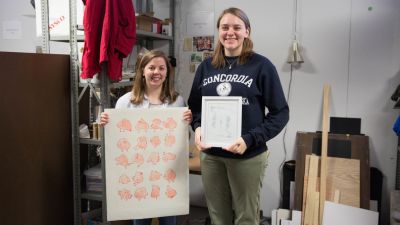 Concordia seniors, Chelsea Wohlgemuth (left) and Emmiline Moll (right), are two of the ten students showcasing artwork at the Bachelor of Fine Art Senior Thesis exhibition at Concordia.
Ten seniors will showcase their work in the Bachelor of Fine Art Senior Thesis exhibition at Concordia, April 19 through May 2 in the Marxhausen Gallery of Art.
An opening reception will be in the gallery from 1-4 p.m., Sunday, April 22. A gallery talk with the featured students will take place at 2 p.m.
This show serves as the capstone experience for students earning a Bachelor of Fine Arts in graphic design, art education or studio art. It corresponds with the Research Symposium held in the spring semester each year. The students' goal for the show is to create a series of new, thematic-related works that present their highest achievement in upper-level studio art courses. Students are required to take this course in order to understand the basic aspects of installing a group exhibition and experience taking the initiative and responsibility involved in doing so. Some of the types of media featured include digital, printmaking, collage, ceramic, sculpture, painting, drawing, video, mixed media and found objects.
"We have all been focusing on our style and language as artists and staying true to it," said Concordia senior, Sarah Johnson. "I have noticed a lot of similar ties in concepts such as several artists working with memories, light verses dark, color communicating with texture, storytelling and exploring self-portraits. Those are all rather broad since they are between ten artists, but they are common themes."
The exhibit is open to the public and free of charge. The Marxhausen Gallery is located in Jesse Hall on the Concordia campus and is open 11 a.m. to 3 p.m., Monday-Friday and 1-4 p.m. on Sunday.
Students participating in the exhibition include (alphabetical order by state, city, last name):
Allise Loomis, senior, Centennial, Colo.
Chelsea Wohlgemuth, senior, Alton, Iowa
Sarah Johnson, senior, Mayer, Minn.
Jade Rowe, senior, Cozad, Neb.
Hannah Rose, senior, Louisville, Neb.
Hayli Frosheiser, senior, Seward, Neb.
Emmiline Moll, senior, Seward, Neb.
Jessica Orwen, senior, Seward, Neb.
Grace Woodburn, senior, York, Neb.
Chris Taylor, senior, Spring, Texas