Concordia seniors present capstone artwork at Marxhausen Gallery
Published by Concordia University, Nebraska 3 years ago on Fri, Apr 5, 2019 11:15 AM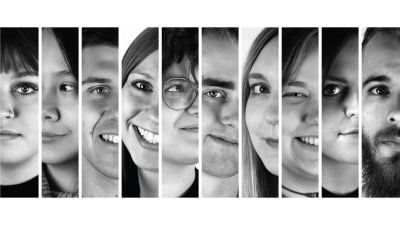 Ten Concordia University, Nebraska seniors are showcasing artwork at the Bachelor of Fine Art Senior Thesis exhibition on display in the Marxhausen Gallery of Art on campus.
Ten seniors will showcase their work in the Bachelor of Fine Art Senior Thesis exhibition at Concordia University, Nebraska, April 14 through May 1 in the Marxhausen Gallery of Art.
An opening reception will be in the gallery from 1 to 4 p.m., Sunday, April 28. An artist talk with the featured students will take place at 2 p.m. in the Thom Leadership Education Center Auditorium.
This show serves as the capstone experience for students earning a Bachelor of Fine Arts in graphic design, art education or studio art. It corresponds with the Research Symposium held in the spring semester each year. The students' goal for the show is to create a series of new, thematic-related works that present their highest achievement in upper-level studio art courses.
"My hope for this senior show is to present a continuation of Concordia's artistic heritage, having a unique love for art alongside a love of God," said Concordia senior Zachary Moll. "I am showing a series of paintings made with acrylic, soil and clay on carved wood. As I work within this heritage, I experiment with the material and agency of an art piece while exploring the theological implications those things hold."
Students are required to take this course in order to understand the basic aspects of installing a group exhibition and experience taking the initiative and responsibility involved in doing so. Some of the types of media featured include digital, printmaking, photography, painting, embroidery, drawing, ceramic, sculpture, wood work, typography and LED light.
"By pushing material limits, my body of work explores my artistic practice through a visual language," said Concordia senior, Kelly Snader.
The exhibit is open to the public and free of charge. The Marxhausen Gallery is located in Jesse Hall on the Concordia campus and is open 11 a.m. to 3 p.m., Monday-Friday and 1 to 4 p.m. Sunday.
Students participating in the exhibition include (alphabetical order by state, city, last name):
Jacy Embray, Glenwood, Iowa
Kelly Snader, Higginsville, Mo.
Luke Comstock, Bigfork, Mont.
Emma Dannehl, Bertrand, Neb.
Courtney Kuehn, Kenesaw, Neb.
Marissa Fuchser, Malcolm, Neb.
Evan Asche, Omaha, Neb.
Megan Boye, Seward, Neb.
Zach Moll, Seward, Neb.
Miranda Stamm, Seward, Neb.