Concordia recognizes student artists
Published by Concordia University, Nebraska 10 years ago on Fri, Apr 12, 2013 7:00 PM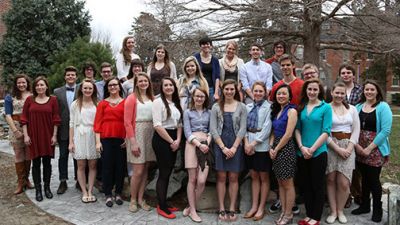 Artwork by 62 Concordia students is currently on display in the Marxhausen Gallery of Art on the Concordia campus. Student art honors and scholarships were also announced at the exhibit's opening reception April 7. The show will run through Friday, April 19, and is open to the public, free of charge.
Media used in the roughly 200 pieces on display includes wax, wood, thread, paint, ink, wire, clay, video, stoneware, digital images and even sugar sculptures.
Entries are judged by Concordia's full-time art faculty, with scholarships and awards selected according to criteria set by those who established the endowments for each award.
This year's Leo Sieck Endowment was awarded to Jenelle Hallaert, a junior from Omaha, Neb. The Sieck Endowment is awarded to an art major in the top 10 percent of his or her class who shows great scholarship in art history, theory and research.

Four students were selected as recipients of the Class of 1933 Endowment, an award for students studying Lutheran education and service to the church. This year's recipients were Amber Deepe, sophomore, Deshler, Neb.; Nicole Hill, senior, Gladstone, Mo.; Grace Hollenbeck, sophomore, Wheat Ridge, Colo.; and Hannah Uden, senior, Kenesaw, Neb.
The Wayne and Wanda Lillich Endowment recognizes students of graphic design who exemplify professionalism, high quality and attention to their design work. Recipients were senior Mary Masur of David City, Neb., and senior Michael Scheer of Lincoln, Neb.
Alyssa Wilson, a senior from Fremont, Calif., received this year's Brommer Art Award. The winner of this endowment demonstrates a strong witness of Christian faith, does exceptional work as a student and is well represented in the student exhibition.
The Marxhausen Endowment, established by Reinhold Marxhausen and family, recognizes exceptional artwork and ability across a broad group of students and art media. The best of show award went to senior Crystal Bauer of Seward, Neb. Other recipients of the Marxhausen award included:
Sarah Bowe, freshman, Omaha, Neb.
Mitchell Volk, sophomore, Lincoln, Neb.
Micah Witt, freshman, Faribault, Minn.
Leah Eklof, junior, Cokato, Minn.
Teresa Plamann, graduate student, Lincoln, Neb.
Brandon Ramos, sophomore, Wailuku, Hawaii
Alison Schuerman, junior, Crete, Neb.
Dane Stahr, junior, Lincoln, Neb.
Luke Wohlgemuth, junior, Alton, Iowa
Jacquelyn Beeson, senior, Seward, Neb.
Laura Kresha, senior, Omaha, Neb.
Alyssa McAfee, senior, Dannebrog, Neb.
Elise Ortmeier, senior, Beemer, Neb.
Jennifer Smith, junior, Grafton, Neb.
Jessica Wagner, senior, Ballwin, Mo.
Erin Wineman, senior, Walton, Neb.
The exhibit is open to the public, free of charge. The Marxhausen Gallery is the on-campus exhibition space for Concordia and hosts a variety of exhibitions each year. It is located in Jesse Hall and is open Monday-Friday 11 a.m.-4 p.m. and Saturday and Sunday 1-4 p.m.