Concordia presents 2016 winter Jazzfest and handbell concerts
Published by Concordia University, Nebraska 6 years ago on Fri, Dec 2, 2016 12:13 PM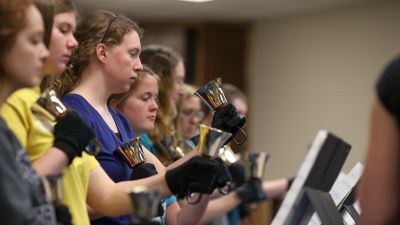 Concordia University, Nebraska's Handbell Choirs will perform in a concert on Dec. 10, 2016, at 3 p.m. in the Music Center's Recital Hall on campus.
Concordia University, Nebraska's winter Jazzfest will take place Dec. 9, 2016, at 7 p.m. in the Weller chapel auditorium.
The group will perform "Switch in Time" and "Hay Burner" by Sammy Nestico, along with pieces by Alan Baylock and Larry Neeck, to name a few.
The Concordia Handbell Choir and Handbell Choir II will perform Dec. 10, 2016, at 3 p.m. in the Music Center's Recital Hall on Concordia's campus.
The handbell choirs will perform Christmas pieces including "Silent Night" and "Ding Dong Merrily on High," as well as "Ye Jazzy Gentlemen" and "Sing We Now of Christmas", as well as a few original handbell pieces as well.
"The students have worked hard all semester and I couldn't be more proud of the effort they have put into their music," said Director of Handbell Choirs Jessica Kite. "Besides their various areas of study, our ringers are involved in so many activities. Drama, bands, choirs, sports and a host of other commitments to keep them busy. I feel very privileged to work with these fine students every week and help them grow as ringers."
Members of the Vocal Jazz Choir include (in alphabetical order by state, city, last name):
Hope Taylor, senior, Foothill Ranch, Cal.
Jacob Fink, junior, Long Beach, Cal.
Meredith Locke, junior, Winter Haven, Flor.
Jacob Henson, senior, Herrin, Ill.
Matthew Kortze, junior, Rockford, Ill.
Austin Theriot, senior, Lake Charles, Louis.
Emily Sievert, junior, Frankenmuth, Mich.
Vanessa Marsh, sophomore, Concordia, Mo.
Megan Sparling, senior, Columbus, Neb.
Paige Stadler, sophomore, Columbus, Neb.
Clara Rich, senior, Lincoln, Neb.
Micah Most, sophomore, Ogallala, Neb.
Benjamin Hayter, senior, Seward, Neb.
Members of the Jazz Ensemble include:
David Krueger, freshman, Aurora, Colo., tenor saxophone
Kaleb Weinkauf, sophomore, Basehor, Kan., baritone saxophone
Matthew Goltl, freshman, Wichita, Kan., drums
Molly Goltl, freshman, Wichita, Kan., alto saxophone
Josh Wudtke, senior, Collinsville, Ill., drums
Matthew Kortze, junior, Rockford, Ill., drums
Jonathan Grant, sophomore, Waterloo, Ill., trumpet
Cole Wohlgemuth, junior, Alton, Iowa, trombone
Charity Espinosa, junior, Clarinda, Iowa, trombone
Charlotte Mueller, senior, Frankenmuth, Mich., alto saxophone
Karl Rovey, senior, Springfield, Mo., trumpet
Jacob Mikkelson, freshman, Bellevue, Neb., piano
Macey Kroeger, freshman, Dannebrog, Neb., piano
Aaron Ferguson, freshman, Hyannis, Neb., tenor saxophone
Paul Nelson, senior, Norfolk, Neb., bass
Lydia Jeppesen, sophomore, Pleasant Dale, Neb., trumpet
Micah Jeppesen, sophomore, Pleasant Dale, Neb., trombone
Ryan Gross, senior, Seward, Neb., trumpet
Kelly Langer, junior, Spalding, Neb., alto saxophone
Naomi Ristvedt, senior, Utica, Neb., tenor saxophone
Curt Flaten, freshman, Sioux Falls, S.D., bass
Alberto Barrientos, junior, El Paso, Tex., bass
Mikayla Eifert, junior, Houston, Tex., trombone
Members of the Concordia Handbell Choir and Handbell Choir II include:
Sophie Thorsen, sophomore, Huntsville, Ala., Handbell Choir II
Breann Huber, freshman, Arvada, Colo., Handbell Choir II
Grace Stults, junior, Monte Vista, Colo., Handbell Choir II
Rachel Keseman, senior, Freeburg, Ill., Handbell Choir
Karina Keating, senior, Woodstock, Ill., Handbell Choir
Elizabeth Moses, sophomore, Columbus, Ind., Handbell Choir
Whitney Pottschmidt, sophomore, Seymour, Ind., Handbell Choir II
Megan Barz, junior, Dubuque, Iowa, Handbell Choir II
Kelsey Adcock, junior, Wamego, Kan., Handbell Choir
Hannah Davis, sophomore, Coon Rapids, Minn., Handbell Choir II
Rebecca Souer, senior, Moorhead, Minn., Handbell Choir
Micah Holten, junior, Nicollet, Minn., Handbell Choir
Vanessa Marsh, sophomore, Concordia, Mo., Handbell Choir II
Emma Gottschamer, junior, Lee Summit, Mo., Handbell Choir
Zoe Moore, freshman, Saint Joseph, Mo., Handbell Choir II
Karl Rovey, senior, Springfield, Mo., Handbell Choir II
Allison Mackie, junior, Columbus, Neb., Handbell Choir
Caleb Staehr, sophomore, Grand Island, Neb., Handbell Choir II
Jonathan Rippe, junior, Gretna, Neb., Handbell Choir
Stephanie Barry, freshman, Omaha, Neb., Handbell Choir II
Danielle Harstad, senior, Seward, Neb., Handbell Choir II
Rebekah Grass, senior, Seward, Neb., Handbell Choir II
Ryan Gross, senior, Seward, Neb., Handbell Choir
Emily Meisinger, junior, York, Neb., Handbell Choir
David Woelmer, freshman, Allen, Tex., Handbell Choir II
Grace Woelmer, senior, Allen, Tex., Handbell Choir
Rachel Dorn, sophomore, Houston, Tex., Handbell Choir