Concordia presents student-written and directed play "Where We Are"
Published by Concordia University, Nebraska 2 years ago on Fri, Feb 15, 2019 11:46 AM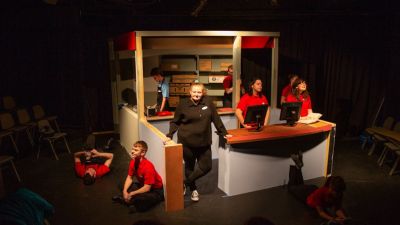 The cast of "Where We Are" rehearses for their performances at Concordia University February 22-24.
Concordia's Theatre Department will present an evening of comedy and laughs in the student production "Where We Are" on Friday, Feb. 22 and Saturday, Feb. 23 at 7 p.m., and on Sunday, Feb. 24 at 2 p.m., all in the Studio Theater located in the Music Center on Concordia's campus.
The play is written and directed by Concordia sophomore Brianna Dehn. It is the ninth of her plays to be produced, and the first at the college level. "Where We Are" is a dramatic comedy featuring a wide array of characters all working at a fast food restaurant and how their lives intertwine. The play was inspired by Dehn's own experience in the fast food business and the connections she made with the people there.
"I've been working on this show for two years now," Dehn said. "It's been a lot of work but very rewarding. These actors have a large skill set and can do more serious stuff with an elaborate set than any cast I've had in the past. Though in every single show I put on, I am completely blown away to watch my characters come to life."
Tickets for the performance are available in the Concordia bookstore in the lower level of the Janzow Campus Center on Concordia's campus. They can also be purchased at the door prior tothe show. Tickets are $5 for general admission and $3 for Concordia faculty, staff and students. Admission for children ages 10 and under is also $3.
Cast members of the production include (listed by appearance):
Mary Kohnke, sophomore, Concordia, Mo., playing Jess
Cecilia Minchow, freshman, Lincoln, Neb., playing Maddie
Bethany Schilling, junior, Littleton, Colo., playing Katherine
Ariana (R.J.) Acomb, freshman, Memphis, Tenn., playing Charlie
Brett Mueller, freshman, Concordia, Mo., playing Josiah
Allison Story, freshman, Clay Center, Neb., playing Debbie
Ryan Groh, sophomore, Oklahoma City, Okla., playing Ken
Zebediah Uden, sophomore, Cedarburg, Wis., playing John
Zachary Staehr, sophomore, Grand Island, Neb., playing Tyler
Victoria Cameron, junior, Kent, Wash., ensemble
Noelle Buller, sophomore, Omaha, Neb., ensemble
Lauren Holmlund, freshman, Maple Grove, Minn., ensemble
Angel Hadachek, sophomore, Sabetha, Kan., ensemble
Grace Babbitts, freshman, Shohola, Pa., ensemble
Crew members of the production include:
Brianna Dehn, sophomore, St. Louis, Mo., director and playwright
Claire Busby, sophomore, Effingham, Ill., assistant director
Stephanie Hatesohl, sophomore, Shawnee, Kan., stage manager
Andrew Haase, freshman, Lincoln, Neb., assistant stage manager