Concordia presents special awards to alumni and friends at 2018 Homecoming
Published by Concordia University, Nebraska 3 years ago on Fri, Sep 28, 2018 11:40 AM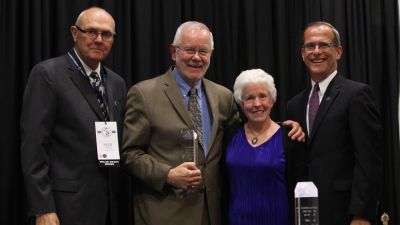 Family Heritage Award winners: Gerald and Judy Roggow were honored along with other alumni and friends of Concordia on Sept. 22, 2018.
The Concordia Alumni Association honored individuals and a family as part of its 2018 Homecoming and Alumni Reunion Weekend celebration, Sept. 21-23.
The awards are given each year to recognize the service and accomplishments of Concordia's alumni and friends.
This year's awards and honorees include:
Alumna of the Year – Sheila Psencik, '96 and '05
Young Alumnus of the Year: Heath Trampe, '05
Servant Leadership Award: Dr. Andrew Benscoter, '02 and '05
Lifetime Service Award – Dr. William Preuss, '60 and '75, and Dr. Judith Preuss '60
Family Heritage Award – Roggow Family
Lifelong Learner Award – Katie Bockelman, '93 and '16
Honorary Bulldog Spirit Award – Irene Schamber
Alumna of the Year: Sheila Psencik '96 and '05
Sheila Psencik serves as Head of School Lutheran South Academy (LSA) in Houston, Texas, overseeing the 800 students from PreK-3 through 12th grade. She originally started her work at LSA as a teacher and athletic director, being called as their middle school principal in 2005 and head of school in 2011. During her time as principal, she oversaw the construction of a new middle school building and the implementation of the 1:1 Apple laptop program. After the devastation of Hurricane Harvey in 2017, the entire school had to be gutted and rebuilt. It was through Psencik's leadership, strength and courage that she was able to rally more than a thousand volunteers in just three days.
Psencik graduated from Concordia Nebraska in 1996 with a bachelor's degree in secondary education with an emphasis in biology and health and went on to earn her master's degree in educational administration from Concordia in 2005. During her time at Concordia, she played volleyball and was inducted into Concordia's Athletic Hall of Fame with her teammates from the 1995 Volleyball Team.
Additionally, Psencik was a member of the 2001 Association of Lutheran Secondary Schools (ALSS) Leadership Development Series and served as a planning committee member for the 2009 and 2014 LCMS Texas District Educator's Conference. She also served on the Board of Directors for the ALSS from 2012-2016. She currently serves on the Leadership Advisory Council (LAC) for the Texas Association of Private and Parochial Schools (TAPPS). Last year, Psencik was recognized as the Educator of the Year for the LCMS Texas District and was named the 2018 Paul Lange Award winner by ALSS.
Psencik and her husband Rob have three children, Grace, Beau and Lily. The family are members at Gloria Dei Lutheran Church in Nassau Bay, Texas, where Sheila serves as a confirmation teacher.
Young Alumnus of the Year: Heath Trampe '05
Heath Trampe was raised in Kearney, Nebraska, and originally attended a state school, where he ran cross country. He transferred to Concordia as a senior to further his spiritual life. After two years of studying the bible, helped the cross country team win conference and regional titles and completed his bachelor degree in interpersonal communication.
God had lit a fire under Trampe. After graduation, Trampe and his wife Andrea traveled to Latvia as LCMS Globally Engaged in Outreach (GEO) missionaries. In 2009, he published his first book, a Bible study devotional titled "Extraordinary News for Ordinary People." He earned his master's of divinity and doctor of ministry in leadership and missions from Concordia Theological Seminary, and went on to serve as associate pastor at St. Peter's Lutheran Church in Indiana.
Trampe is currently senior pastor of Faith Lutheran in York, Nebraska. The couple have two boys: Jonathan, 7, and Andrew, 5.
Servant Leadership Award: Dr. Andrew Benscoter, '02 and '05
Dr. Andrew Benscoter lives in Irving, Texas where he is blessed to be the vice president of education and residential programs with Upbring. Upbring is an organization that delivers services to children including foster care, adoption, education, residential treatment and community services. In the last year, Benscoter has helped launch two Lutheran schools and provide leadership to four residential treatment facilities across the state.
Benscoter had a life-long passion for teaching. He graduated from Concordia in 2002 with a B.S. in education, a B.F.A. in design, and a Lutheran Teaching diploma. He went on to serve in schools around the country teaching at Concordia Lutheran School in Tacoma, Washington and Grace Lutheran School in Pocatello, Idaho, and acting as principal at Shepherd of the Desert Lutheran School in Scottsdale, Arizona and Redeemer Lutheran in Austin, Texas. Throughout that time, he earned his master's from Concordia's online program in 2005 and his doctorate from Concordia University, Chicago, in 2015.
Dr. Benscoter said that he continues to be driven to serve children in any and all capacities. "Concordia gave me the confidence to try different things and know that the success is defined by what I learn from the experience."
Lifetime Service Award: Dr. William Preuss, '60 and '75, and Dr. Judith Preuss '60
The Preuss' met at their time at Concordia after Bill's service as a Navy aircraft electrician. After a back and forth romance between Chicago and Seward, the couple settled in Seward with Judy teaching in Waco, Nebraska and Garland, Nebraska. The two earned their bachelor's degrees in 1960. Bill received a call as a teacher and principal at Staplehurst, Nebraska.
Bill received his master's in elementary education administration in 1961 and his doctorate in educational psychology and administration in 1967 from the University of Nebraska-Lincoln. He was called as a professor at Concordia in 1964. Judy would join him as part of Concordia's faculty after teaching around the area and completing her master's in reading in 1974 from Concordia and her Ph.D. in administration, curriculum and instruction from University of Nebraska-Lincoln in 1980.
The two greatly contributed to Concordia's programs over their years on the faculty. Judy developed the special education program at Concordia and became chair of the department and eventually dean of Education, a position she held until her retirement in 2002. She would also serve as academic dean at Concordia Selma for two years. Bill worked on developing what is now the basic freshman advising program and Gallup International and redesigned field experience and the student teaching model.
Bill and Judy have four children. Dr. Tim, '83 and wife Debbie, have four children. Tim is the new provost at Concordia; Dr. Michael and wife Marcella live in Amarillo, Texas. They have one daughter, Jordan. Daughter Ann (Rodney) VanLoenen lives in Flower Mound, Texas, and has three married daughters. And their youngest daughter, Rachel Hoyer, '87 (Jeff), lives in Overland Park, Kansas, with her two children.
Family Heritage Award: Roggow Family
"God has blessed us beyond all riches that our children had the opportunity to attend Concordia." Three generations have or are currently attending Concordia.
Gerald and Judy (Werth) were set up on a blind date as freshman in 1960 and were married 3 years later. Judy's sister and her husband also attended Concordia. Following graduation, the Roggows took their education degrees to California where they served for nine years. The family returned to Nebraska when Gerald was called to be principal of Christ Lutheran School in Norfolk. After seventeen years, the Roggows moved to St. Louis so that Gerald could attend Seminary. He served as pastor in Bancroft and then St. John Lutheran from 1999 to 2004. Upon retirement, the couple moved to Enid, Oklahoma, where they still reside. Gerald and Judy have five children, Miriam, Timothy, Gloria, Paul and Phillip, all of whom attended Concordia, sang A Cappella and traveled to Europe with the choir.
Andrew, '88 and wife Miriam (Roggow) '87 Wehling live in Liberal, Kansas, where Andrew is a pastor and Miriam is a substitute teacher. Their son Caleb, '17 is currently in graduate school at the University of Nebraska, working on a master's in genetics. Their other children Katie and Daniel are currently students at Concordia.
Timoty '90 served as a DCE and Lutheran teacher for 27 years before attending Concordia Seminary in St. Louis. He will go on vicarage in the summer of 2019. He lives in Cottage Hills, Illinois, with his wife, Annalisa (Yarborough) '89, who is a pre-school director at Zion Lutheran School in Bethalto. They have two sons, Jacob who is currently a student at Concordia and Aaron.
Gloria '92 went on to get her master's in religion and deaconess degree. She currently works at St. John Lutheran Church and School in Denver, Colorado.
Paul '99 and his wife Jackie (Carlson) live in Duncan, British Columbia where Paul is the pastor of Trinity Lutheran Church with the Lutheran Church of Canada. They have five children; Micah and Evan (twins), Abi, Lucia and Kai.
Phillip and his wife Amanda (Jack) live in Columbus, Indiana where Philip is the owner of a college coffee shop. Amanda works for the Domestic Violence Center as a grant writer. They are the parents of four boys; Zander, Quinn, Kaleb and Wyatt.
Lifelong Learner Award: Katie Bockelman, '93 and '16
Following in her parents and older brother's footsteps, Katie Bockleman graduated in 1993 from Concordia with an undergraduate education degree. She began her career at Lincoln Lutheran in Lincoln, Nebraska, where she continues to teach history and geography. After her son Isaiah '15 graduated from high school and made his own move to Concordia, Bockelman enrolled in Concordia's online master's program.
Through her graduate studies work, Bockelman found a passion for working with educators in Belize with the Central American Lutheran Mission Society (CALMS), developing and presenting workshops to secondary educators to improve learning for Belizean schoolchildren. For her final master's degree project, she was able to create a workshop for the teachers in Belize on emotional intelligence.
Honorary Bulldog Spirit Award: Irene Schamber
Irene has been an enthusiastic supporter of Concordia University for 80 years. At least 13 members of her extended family are Concordia graduates, including her husband, two sons, her granddaughter, her great-granddaughter, two nieces and several in-laws.
Irene was born in 1912 and grew up on her family's farm just outside of Wisner, Nebraska. She was the first person in her community to attend high school, boarding with a local woman to attend classes. She then attended summer school at State Normal School and Teachers College in Wayne, Nebraska, to receive her teaching certificate. At age 17, she began teaching as the sole teacher of the local one-room county school.
Irene's late husband Herold, graduated from Concordia in 1930 with a two-year degree and taught at Zion-Lutheran in Wisner, Nebraska, where Irene was a member. The two attended a local teacher's conference together, setting off a spark. They were married in 1935 and had two sons, John and Frederick, both of whom would attend Concordia. Though Irene never graduated from Concordia, she took an art-teaching class under Reinhold Marxhausen one summer while Herold work on his bachelor's degree.
The couple soon moved to Clarinda Iowa for Herold teach at Immanuel Lutheran and then to Lakefield, Minnesota where both of them taught. They retired in 1972 and moved to Fremont, Nebraska. After Herold's passing in 1992, Irene moved to Fort Wayne, Indiana, so she could be near her son, John. Irene still lives there and recently celebrated her 105th birthday.