Concordia presents "A Christmas Carol"
Published by Concordia University, Nebraska 10 years ago on Fri, Oct 7, 2011 3:39 PM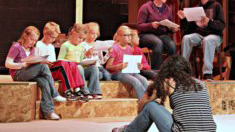 Caitlynn Schwehn (foreground) directs her adaptation of Charles Dickens' A Christmas Carol. (rear l-r) Shannon Snow, Thomas Reinke, Lydia Lobmeyer, Ella Gray, Madison Geidel, Anna Royuk, Robyn Meyer and Zachary Klatt practice a scene.
The sweetness of Tiny Tim and the magical transformation of Ebenezer Scrooge are sure to touch audiences at the fall semester main stage presentation of Concordia's theatre department. A cast of 25 Concordia students and Seward youth will present an adaptation of Charles Dickens' A Christmas Carol. Shows are Saturday, Nov. 5, at 7:30 p.m., Sunday, Nov. 6, at 2 p.m., Friday and Saturday, Nov. 11 and 12, at 7:30 p.m., and Sunday, Nov 13, at 2 p.m. All performances are in Weller auditorium, and the public is invited.
The adaptation is the work of junior Caitlynn Schwehn, who felt Concordia needed a Christmas drama in its repertoire. Schwehn looked at several scripts for the classic work but ultimately decided to create her own version.
"Christmas Carol has always been a show close to my heart, and I looked for a script I really liked, but after taking Play Production and Techniques in Play writing last year, I felt confident enough to adapt the novella myself," she said.
In addition to seeing the spirit of Christmas unfold on stage, the audience will have the opportunity to demonstrate that spirit by taking part in a free will offering. Proceeds will go to Operation Christmas Child, a charity designed to demonstrate love and giving around the world.
"I feel like this charity gives the Concordia audience a chance to embrace the meaning of A Christmas Carol," said Schwehn.
Tickets for the performances are $5.00, but children under 12 are free. They are available at the Concordia bookstore prior to the show or at the door.
Cast and Crew of A Christmas Carol:
Scrooge- Henning Petersen, Senior, Parker, Colo.
Jacob Marley- Cayde Sprecker, Junior, Woodbine, Iowa
Belle- Mary Krc, Senior, Frederick, Md.
Charity- Jamie O'Laughlin, Sophomore, Winona, Minn.
Fred- Austin Albers, Junior, Sioux Falls, S.D.
Bob Cratchit- Zachary Klatt, Freshman, Kansas City, Kan.
Mrs. Cratchit- Robyn Meyer, Sophomore, Linn, Kan.
Ghost of Christmas Past- Alicia Wosepka, Junior, Ackley, Iowa
Ghost of Christmas Present- Tyler Zander, Junior, Howard Lake, Minn.
Chorus:
Kirsten Awe, Sophomore, Tilden, Neb.
Ryan Fiero, Junior, Austin, Texas
Michaela Gierke, Freshman, Billerica, Mass.
Ruthie Krc, Sophomore, Frederick, Md.
John Koopman, Senior, Milbank, S.D.
Alyssa Lehenbauer, Freshman, Lake of the Ozarks, Mo.
Andrew Magnus, Freshman, Springfield, Mo.
James Peterson, Freshman, Carterville, Ill.
Lucas Schmidt, Freshman, David City, Neb.
Jordan Schultz, Junior, Beemer, Neb.
Seward-area children:
Tiny Tim Cratchit- Anna Royuk
Peter Cratchit- Thomas Reinke
Martha Cratchit- Madison Geidel
Katherine Cratchit- Shannon Snow
Emily Cratchit- Ella Gray
Sarah Cratchit- Lydia Lobmeyer
Crew:
Director- Caitlynn Schwehn, Junior, Grand Island, Neb.
Asst. Director- Josh Schultz, Junior, Mapleton, Minn.
Stage Managers- Serena Weber, Sophomore, Sioux City, Iowa; Cody Collier, Junior, Springfield Ill.
Children's Asst. Director- Beth Brackmann, Senior, Denver, Colo.