Concordia offers spring Saturday elementary art sessions
Published by Concordia University, Nebraska 9 years ago on Tue, Feb 12, 2013 4:37 PM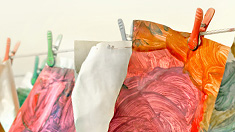 Concordia's Saturday art classes were offered for Pre-K through 6th grade students.
Concordia's art department offered a set of Saturday morning art sessions for elementary students this spring. The sessions, held March 23-April 27, were taught by students majoring in elementary education and art department staff.
The sessions, available to pre-kindergarten through 6th grade students, were divided by age group. Each session was led by an elementary education major enrolled in the Methods of Art Education course. Art majors, members of Concordia's art club, and art department faculty and staff also assisted with teaching the sessions.