Concordia nursing professor selected to teach graduate nursing program in Vietnam
Published by Concordia University, Nebraska 8 years ago on Fri, Feb 1, 2013 4:43 PM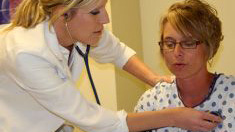 Molly Fitzke, assistant professor of nursing.
Molly Fitzke, assistant professor of nursing at Concordia, was selected to teach the first Vietnamese graduate nursing program in Ho Chi Minh City, Vietnam. Fitzke spent two weeks, Feb. 25-March 8, 2013, in Vietnam teaching nurses and serving through a Friendship Bridge Nurses Group project.
"My goal in Vietnam," said Fitzke, "was to provide a Christ-inspired positive learning environment while serving the Vietnamese nurses." Fitzke said she gained greater knowledge of international nursing practice standards and shared what she learned with fellow nurses and students.
Fitzke was selected, along with five other doctorate-prepared nurse educators, from 108 applicants. Each applicant went through a screening process before being chosen for the mission by Friendship Bridge Nurses Group. The goal of the group is to enhance nursing and health care in Vietnam through partnerships with leaders in nursing education and clinical practice.