Concordia Nebraska senior publishes book "Old Testament for Children"
Published by Amy Crawford 2 weeks ago on Wed, May 24, 2023 11:04 AM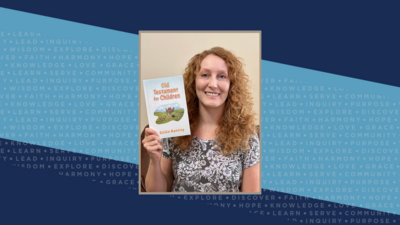 Concordia Nebraska senior Goldie Manning describes herself as a non-traditional student. Manning's husband is retired from the Navy, her son is married and serves in the Army and her daughter attends college at University of Nebraska Omaha.
"I took time off after my associate's degree to be a stay-at-home mom and raise my children. My husband was in the military so we moved every few years from the east cost to the west coast to Hawaii to Italy," she explained.
Manning discovered Concordia Nebraska during her daughter's college search. A talented artist, Manning chose the university for its art therapy program. This past spring, two of her pieces – an oil painting and a wooden sculpture – were on display as part of the student art exhibition.
In addition to her art studies at the university, Manning recently published a book titled "Old Testament for Children." The idea for the book was born when she worked with the children's program at a church her family previously attended.
"When my son was in preschool, we ended up in a church that did not have children's church during the adult service," she said. "I volunteered to run a children's program but could not find a curriculum that I liked, so I began writing my own, starting in Genesis and going through the entire Old Testament. This was back in 2003-2004. This past summer, I felt the pull to revisit this curriculum and to publish it."
She said both the development of the content for her book and her time at Concordia have helped her grow and deepen her faith.
"Each professor I've had has helped me to learn something new about myself or furthered my walk with God," she said. "Concordia has a very friendly atmosphere, and the professors care about the students as people. They know each student individually and want to see each one succeed.  When I have questions, the professors are happy to provide answers and to guide me toward what the Bible says about the subject.
When she's not in the art studio of the classroom, Manning enjoys reading and quilting. Although she is thoroughly enjoying her art therapy studies, she said she'd also enjoy teaching art, too. She expects to graduate in December 2023.