Concordia Nebraska Experiences Largest Incoming Class in 50 Years
Published by Danielle Luebbe 2 months ago on Wed, Sep 6, 2023 2:27 PM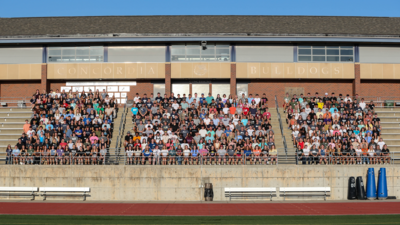 Concordia University, Nebraska announced 434 new undergraduate students have registered as of Aug. 28, 2023.
Concordia University, Nebraska today announced that 434 new undergraduate students have registered as of Aug. 28, 2023, the highest enrollment in 50 years. This will lead to a projected full-time undergraduate enrollment of more than 1,200 students on the Seward campus.
"Seeing this strong class of incoming students shows us that students and their families across the country see the value of receiving a Christ-centered higher education," said Concordia Nebraska director of undergraduate admissions and operations Aaron Roberts. "We are grateful that so many families trust our faculty and staff to equip these talented students for lives of learning, service and leadership in the church and world."
The fall 2023 class of 434 students is the largest incoming class at Concordia in decades. Full-time undergraduate enrollment numbers are up from 1,124 last year.
"We are richly blessed to welcome these men and women of conviction and character to be part of our Concordia community," said Dr. Bernard Bull, president. "This year's successful result is a testament to the strength of a Lutheran model of education and the Christian learning environment fostered by our faculty and staff. Our continued enrollment growth is an endorsement of our mission, and we thank God that this record number of students will benefit from our excellent faculty, rigorous academic programs and a community steeped in Christ."
To provide students with the best possible educational experience, the university will be moving actively admitted students to a waitlist so that the university can continue to provide the excellent, Christ-centered education for which it is known.
The university also serves 531 full-time and part-time adult learners registered for classes as of Aug. 28, 2023.

Learn more about admissions at Concordia here.