Concordia names Suzanne Kolterman outstanding woman in business, creates new scholarship fund for business students
Published by Concordia University, Nebraska 5 years ago on Fri, Mar 4, 2016 9:13 AM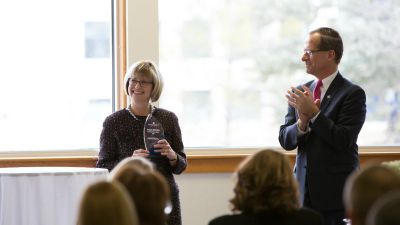 2016 Outstanding Woman in Business recipient Suzanne Kolterman accepts her award during the annual luncheon honoring the achievements and servant leadership of women in Seward County. Also pictured is Concordia President Rev. Dr. Brian Friedrich.
Suzanne Kolterman of Seward, Nebraska, was honored as the 2016 Outstanding Woman in Business on March 1, 2016, at Concordia University, Nebraska at the 13th Women in Business luncheon. The annual luncheon, hosted by Concordia and its Phi Beta Lambda student business organization, celebrates and recognizes the achievements and servant leadership of businesswomen in Seward County.
Concordia senior Mary Wheeler opened the event with a brief welcome and introduction, followed by junior Jeremy Rodriguez who offered prayer before lunch was served to more than 100 attendees, including faculty and staff of Concordia, family and friends of Kolterman, several past award recipients and members of the Seward County community.
Keynote speaker, the Honorable Riko Bishop, judge of the Nebraska Court of Appeals, shared personal experiences and perspectives about the roles and inspiration women have provided and continue to provide to their families, employers and communities: "We are all shaped throughout our lives by a number of positive and negative influences, sometimes because of our gender and sometimes regardless of our gender. Most important is how we grow from those experiences and set examples for the next generation so that we can help build a better community, state and nation. Let us now honor an individual who sets that example and let us be inspired by her to go make good things happen."
Concordia senior Ana Cuellar, president of Phi Beta Lambda, joined by Concordia President Brian Friedrich presented Kolterman with the 2016 Outstanding Woman in Business award, stating, "Abundant has been a guiding word for Concordia this academic year as we recall and respond to the many ways God has blessed us. Suzanne Kolterman is a fine example of life lived abundantly through her many years of being a part of and serving this community through her work at the Kolterman Agency, through her volunteerism and through her living out her faith. We are honored to recognize her here today, and we thank God for the blessing she is to her family, friends, co-workers and community.
"I am deeply humbled to have been chosen today for this honor," said Kolterman after she accepted her award. "I know that there are many in this audience and in our community that are even more deserving, so I am very humbled to accept this, and I accept this on behalf of all the good women in our community."
Later in her comments, Kolterman offered advice reflective of her experiences as a businesswoman: "Always do right for the client. What's right for the customer? … Build relationships because that is what is most important—to have a relationship with people, to get to know them as an individual. To see what makes them tick. What are their joys? What are their sorrows? And I think in the long run, that is one of the most important things."
As Kolterman closed her speech, she spoke of her Christian faith: "None of what I have been so blessed with, in the way of family, and friends, and career and security would be possible without the great God who showers us with His continual love. Let me never forget that he made me in [His] image and to be a servant to others, and if I can continue to remember that and act on that in just some small part, then I think I have done what God has asked me to do."
Through the Kolterman Agency Inc., Kolterman has been involved in the insurance industry since 1980, specializing in long-term care insurance, individual health insurance, Medicare supplements, dental and prescription drug plans. She is a member of the National and Nebraska Association of Health Underwriters and of the Seward Chamber of Commerce, and she is very involved at St. Vincent DePaul Catholic Church.
Kolterman was raised in Goehner, Nebraska, on a dairy farm with her parents Carl and Adeline Geis and five siblings. She graduated from Seward High School and attended the University of Nebraska-Lincoln where she received a Bachelor of Science degree in consumer education.
Kolterman has been married to her husband, State Senator Mark Kolterman, for 45 years; they have two grown daughters, Jessica Kolterman (Seward) and Jennifer Stevens (St. Paul, Minnesota) and four grandchildren.
Prior to forming Kolterman Agency Inc. with her husband, Kolterman served as teller supervisor for eight years at The Cattle National Bank and Trust Company. She also worked in real estate for 15 years, serving as an agent and a broker.
Kolterman credits her many experiences and successes to the support of the people in the Seward area. Her business philosophy is based on always doing what is best for the client and understanding that if you always put the customer first, you will be successful in your business endeavors.
The Outstanding Woman in Business award is presented each year by Phi Beta Lambda and Concordia. Sponsors for the 2016 Women in Business luncheon were The Cattle National Bank and Trust Company, Edward Jones, Jones National Bank and Trust Company, Memorial Health Care Systems, Rumery Lawn and Landscape and the Seward Area Chamber of Commerce.