Concordia musicians earn top spot for all entries in NATS music competition
Published by Concordia University, Nebraska 6 years ago on Wed, Oct 21, 2015 11:33 AM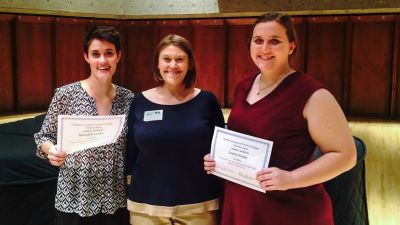 Concordia sophomore Meredith Locke (left) and senior Lauren Staehr (right) present their certificates after winning top spots in different categories at the National Association of Teachers Singing music competition on Oct. 2, 2015. Also pictured is Dr. Talea Bloch, both students' voice teacher and adjunct professor of voice at Concordia.
Concordia sophomore Meredith Locke and senior Lauren Staehr were awarded first place in three separate categories during the National Association of Teachers of Singing music competition Oct. 2, 2015, at the University of Nebraska Omaha campus.
Of the 19 categories in the competition, Concordia won first place in three of them—all three categories in which the university entered competitors. Locke placed first in the Sophomore Women and Lower College Women Musical Theatre categories. Staehr received first place in the Senior Women Classical category.
"I encourage students to participate in competitions like NATS because they get comments from judges who do not hear them on a regular basis," says Dr. Talea Bloch, adjunct professor of voice at Concordia. "It is also important that students take every opportunity they have to perform, use their talents and hone their skills. NATS is just one of many opportunities available to students at Concordia."
Students competed against others at their own education level and similar age in either a classical category or musical theatre category.
One hundred seventy students from 12 Nebraska colleges and four private studios participated in the all-day event that began at 8 a.m. and lasted until the announcement of the awards at 5 p.m.