Concordia hosts 2015 Musical Arts Day on campus
Published by Concordia University, Nebraska 6 years ago on Wed, Oct 21, 2015 11:32 AM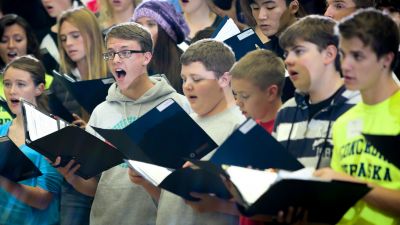 The annual Musical Arts Day concert at Concordia brings high school students from across the country to perform at Concordia University, Nebraska. This year's concert is scheduled for Oct. 30 at 7 p.m.
The Musical Arts Day concert will take place at Concordia University, Nebraska on Friday, Oct. 30, at 7 p.m. after high school student vocal and band students from all over the country practice for the event throughout the day on campus.
Approximately 200 high school students, out of more than 300 who auditioned, will participate in the event. Members of Concordia's University A Cappella Choir and University Symphonic Band will help with rehearsals and perform with the high school musicians during the concert.
Concordia's Professor of Music and Music Department Chair Dr. Kurt von Kampen will direct the honor choir, and Concordia's Assistant Professor of Music Andrew Schultz will direct the honor band.
"Through the years, thousands of high school students have experienced the joy of making music—and performing to the glory of God—with talented conductors and college musicians," said von Kampen.
The Musical Arts Day event began in 1999 by von Kampen and has occurred annually since. The event is free and open to the public.