Concordia hosts forensics tournaments for high school, college speakers
Published by Concordia University, Nebraska 6 years ago on Fri, Jan 30, 2015 10:05 AM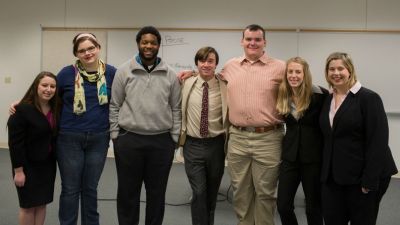 Members of the Concordia forensics team gather after the Sleet and Snow Swing Invitational hosted at Concordia. Members include, from left: Sarah Scamehorn, Libby Klein, Louvell Rogers, Sean Carpenter, Zane Francescato, Melonie Kotschwar and Marol Feicker
Concordia hosted two annual forensics tournaments for both college and high school speakers. The Sleet and Snow Swing Invitational Jan.17-18 brought in dozens of speakers from 13 colleges representing five states. The CUNE High School Speech Classic on Jan. 24 brought in high school speakers from 12 high schools.
"The ability to learn how college tournaments are run and then immediately host and judge at a high school tournament was a beneficial experience for everyone," said Joy Johnson, director of forensics. "I've already heard back from several of the high school coaches whose students attended our meet, and they are grateful for the knowledge and kindness of the college students who judged."
At both meets, Concordia students ran the ballot table, judged events and worked in the tab room to tally the scores of the competitors.
At the Sleet and Snow tournament, members of Concordia's forensics team joined the competition. Freshman Louvell Rogers scored the highest of the Concordia team, earning both second place and first place rankings in two of the preliminary rounds with his Dramatic Interpretation piece on the California prisoner Scott Peterson.
"Being that my entire team is made up of novice competitors, I am very proud of their dedication to improve as well as their overall growth as collegiate performers and that they are all supportive team members," Johnson said.
Concordia students who participated in hosting the tournaments include:
Tara Larsen, junior, Chandler, Ariz.
Allison Caudle, sophomore, Greeley, Colo.
Zane Francescato, freshman, Alamosa, Colo.
Libby Klein, sophomore, Northfield, Minn.
Emily Kollbaum, sophomore, Concordia, Mo.
Sean Carpenter, junior, Hollis, N.H.
Marol Feickert, sophomore, Lawrenceville, N.J.
Melonie Kotschwar, junior, Seward, Neb.
Michael Duffy, freshman, Kenesaw, Neb.
Sarah Scamehorn, freshman, Sterling, Neb.
Louvell Rogers, freshman, Lincoln, Neb.
Stephanie Shearer, junior, Arapahoe, Neb.
Taylor Baumeister, senior, De Pere, Wis.