Concordia hosts 2016 forensics tournaments for high school, college competitors
Published by Concordia University, Nebraska 5 years ago on Fri, Feb 5, 2016 9:38 AM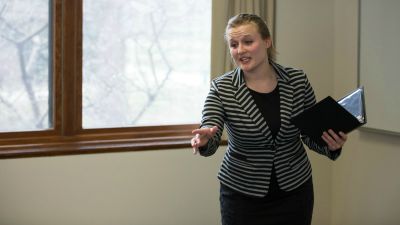 Concordia student Emily Kollbaum rehearses for forensics competitions. Concordia's team is currently preparing for the National Christian College Forensics Championship in early March 2016.
Concordia University, Nebraska recently hosted two annual forensics tournaments for both college and high school speakers. The Sleet and Snow Swing Invitational Jan.16-17, 2016, brought in dozens of speakers from 10 colleges representing five states. The CUNE High School Speech Classic on Jan. 23, 2016, brought nearly 200 high school speakers from 17 high schools to Concordia.
"It is always a great experience to have these events on campus, as both a service to the college forensics community and a chance to introduce college forensics to high school students from across Nebraska," said Andrew Moffitt, Concordia's director of forensics. "I've heard from several schools whose students attended our tournaments, and they are grateful for the knowledge and kindness of our team and wider campus community. Building relationships with other schools and their students makes it a joy to host tournaments like these."
At both tournaments, Concordia students ran the ballot table, judged events and worked in the tab room to tally the scores of the competitors. The Concordia forensics team competed in the Sleet and Snow Swing in addition to completing their hosting responsibilities. "Being that our current team is largely made up of novice competitors, I am very proud of their dedication to improve, as well as their overall growth as a team unit," Moffitt said.
Concordia's forensics team will stay busy in February with multiple tournaments across the region as it prepares for the National Christian College Forensics Championship, to be held in San Diego, California, March 5-7, 2016.
Concordia students who participated in hosting and/or participating in the tournaments include:
Emily Kollbaum, junior, Concordia, Mo.
Sean Carpenter, senior, Hollis, N.H.
Tationa Trice, freshman, St. Louis, Mo.
Hannah Sugita, freshman, Grand Island, Neb.
Soren Doll, freshman, Randolph, Ne.
Kristin Jindra, junior, Pilger, Neb.
Musa Fofana, junior, Seward, Neb.
Alicia Royuk, senior, Seward, Neb.
Grace Hollenbeck, senior, Parker, Colo.