Concordia hosts 2018 forensics tournaments for high school, college competitors
Published by Concordia University, Nebraska 3 years ago on Fri, Jan 26, 2018 11:00 AM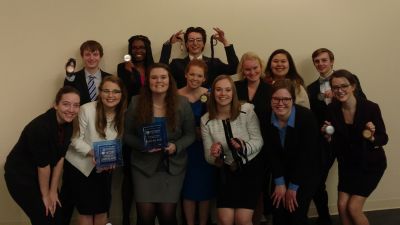 Competitors and staff celebrate their success at the Sleet and Snow Swing on Jan. 14, 2018. Pictured are: (Front, L to R) Malia Ebel, Katie Funk, Payton DeMers-Sahling, Faith Osborn, Taryn Thomas, Grace Koehn, (Back L to R) Will Helmer, Tationa Trice, Avery Kesar, Nora Friberg, Melody Niemoth, Hannah Sugita, and Jacob Garrison.
Concordia University, Nebraska recently hosted two annual forensics tournaments for both high school and college speakers.
The Sleet and Snow Swing Invitational was held on Jan.13-14 and dozens of speakers participated from 12 colleges representing five states. The Concordia University, Nebraska, High School Speech Classic was held on Jan. 20. Nearly 300 speakers participated from 22 Nebraska high schools.
"It is always a great experience to have these events on campus, as both a service to the college forensics community and a chance to introduce college forensics to high school students from across Nebraska." said Andrew Moffitt, Director of Forensics. "This was a record year for participation at both tournaments, and the team is excited to grow these events moving into the future."
At both tournaments, Concordia students ran the ballot table, judged events and worked in the tabulation room to tally the scores of the competitors. Additionally, the Concordia Speech and Debate Team competed in the Sleet and Snow Swing, in addition to their hosting responsibilities.
"Our current team is largely made up of first and second year competitors. I am very proud of their dedication to improve as well as their overall growth as a team unit," Moffitt said. During the Sleet and Snow Tournament, Concordia took home four tournament championships, and qualified four new events to the American and National Forensics Association National Championships, bringing the total of events qualified so far this season to 18.
Concordia forensics cap off their hosting duties with seven weeks in a row of tournaments, beginning this weekend with the Nebraska In Kansas Swing Invitational at Kansas State University, in Manhattan.