Concordia hosts first dessert theatre
Published by Concordia University, Nebraska 10 years ago on Fri, Sep 16, 2011 4:08 PM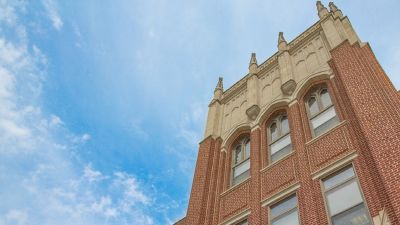 Sweets and songs were on the program at Concordia's inaugural dessert theatre, "Last Course Cabaret." A cast of 24 presented a revue of over 30 classical and modern musical theatre songs during three performances Oct. 21-23. The show featured numbers from the likes of Hello Dolly, Beauty and the Beast, Pippin, Jekyll and Hyde and Spamalot.
A buffet of treats and desserts was offered prior to each show.
"The dessert theatre idea resulted from attending a dinner theatre performance during a study tour last spring. It was exciting to observe the fellowship and energy generated from this added element, and I thought Concordia and our community would enjoy such an experience," said Bryan Moore, head of the theatre department.
Financial support for the production was provided by Cattle National Bank.
Performers include
Kirsten Awe, Sophomore, Tilden, Neb.
Elizabeth Bargar, Senior, Fairbury, Neb.
Brittany Becker, Junior, St. Peters, Mo.
Sarah Dinger, Junior, Pocatello, Idaho
Kristin Easler, Senior, Fredericksburg, Va.
Heather Eden, Senior, Boise, Idaho
Ryan Fiero, Junior, Austin, Texas
Mallory Hicks, Junior, Aurora, Colo.
Zachary Klatt, Freshman, Shawnee Mission, Kan.
Martin Kois, Senior, Omaha, Neb.
Will Kois, Freshman, Omaha, Neb.
John Koopman, Senior, Milbank, S.D.
Conner Lloyd, Freshman, Parker, Colo.
Andrew Magnus, Freshman, Springfield, Mo.
Julie Marquardt, Sophomore, Janesville, Minn.
Daniel Miller, Junior, West Point, Neb.
Heather Niedfeldt, Senior, Stella, Neb.
Heidi Niedfeldt, Senior, Stella, Neb.
Bethany Osberg, Junior, Norfolk, Neb.
Tory Petz, Senior, Beemer, Neb.
Brittany Pottschmidt, Senior, Brownstown, Ind.
Brianna Ritter, Freshman, Columbus, Neb.
Lucas Schmidt, Freshman, David City, Neb.
Steven Whitney, Senior, Kenyon, Minn.
Accompanists are
Danielle Jarvis, Freshman, Hamilton, Mont.
Elizabeth Wittig, Sophomore, Saginaw, Mich.
Rebecca Wittig, Junior, Saginaw, Mich.
Blake Woodburn, Junior, Seward, Neb.