Concordia hosts 75th annual Gathering of the Talents
Published by Concordia University, Nebraska 3 years ago on Fri, Apr 12, 2019 11:13 AM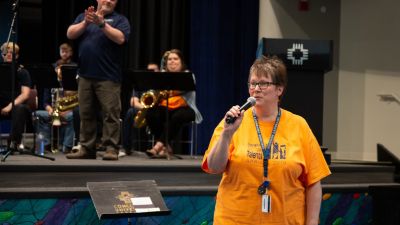 The Concordia University Jazz Ensemble performs for the 190 students on campus for the 75th annual Gathering of the Talents.
More than 190 elementary and middle school students showcased their talents at Concordia University, Nebraska's annual Gathering of the Talents April 6.
Participants and their families traveled from 25 Lutheran Church–Missouri Synod schools and churches across Nebraska, Iowa, Missouri and Kansas to attend the event.
"We are truly blessed to have so many participants come to campus and showcase their talents to glorify God," said Rebecca Bimler, Gathering of the Talents coordinator. "It is amazing to see all the incredible talents God has blessed these children with."
Students in grades four through eight participated in over 260 events in five divisions including visual art, creative writing, drama, dance and musical performance. The five divisions were organized by faculty members along with an assistant student chair, who then recruited evaluators consisting of Concordia University students. All submissions and performances were evaluated and given both verbal and written feedback. An Outstanding Performance Ribbon and Award were presented to a few students in each division who displayed outstanding talent.
Afterward, the students were given an opportunity for enjoyment and inspiration as they experienced college students' talents in action through the performances of Concordia's Jazz Ensemble and the Concordia IMPROVables drama troupe.
"The day offered each participant an opportunity for evaluation development and inspiration," Bimler said. "We are striving to make Gathering of the Talents more about education, learning, experience and growth for each and every participant, and less focused on the competition aspect."