Concordia honors Nancy Velder as outstanding woman in business
Published by Concordia University, Nebraska 6 years ago on Thu, Feb 26, 2015 9:24 AM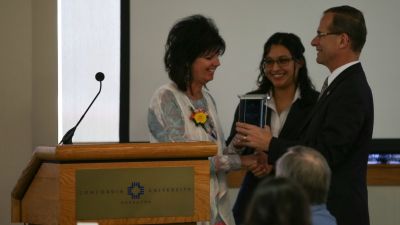 Nancy Velder of Milford, Nebraska, the 2015 Outstanding Woman in Business, accepts her award from Concordia President Rev. Dr. Brian Friedrich and Concordia student Ana Cuellar, president of the Concordia chapter of Phi Beta Lambda.
Concordia University, Nebraska honored Nancy Velder as the 2015 Outstanding Woman in Business at a celebratory luncheon on Tuesday, Feb. 24. The annual event recognizes the achievements and servant leadership of women in Seward County.
Velder is the founder and owner of the Ana Patricia Boutique in Milford, Nebraska, a business she formed based on the principles of giving and doing for others.
When Velder visited Mexico more than 14 years ago during a mission trip, she met Ana Patricia (Paty) Vallejo, who could make an intricate flower out of discarded wire with her teeth. Velder suggested that Vallejo try to make jewelry using her eye for design. Today, Vallejo, her brother and her aunt create one-of-a-kind jewelry for the boutique. The boutique also carries various other accessories and women's wear.
"We are very humbled and honored to receive this award," said Velder after she accepted the award. "Paty made a video highlighting some of the blessings from the business. A few of them are Paty earning a degree in industrial engineering, buying musical instruments for street children, construction on homes, funeral expenses, prosthetic legs, cars, computers and much more."
Velder showed the video of photos and words set to music to demonstrate the impact that Ana Patricia Boutique has had on the Mexican community where Paty and her family live and work.
Jill Johnson, the event's keynote speaker, is a professional development consultant at Educational Service Unit 6 of Milford and a member of the Concordia Board of Regents. Johnson's message shared personal moments in which Velder had unknowingly inspired her and others through her business.
Johnson then tied her and Velder's personal experiences to the key message in the book, "Start with Why: How Great Leaders Inspire Everyone to Take Action," by Simon Sinek, challenging people to focus on "why" they do what they do instead of determining "what" to do or "how" to do it.
Johnson said, "People don't buy what you do. They buy why you do it. … It's not the money, but the ministry. It's not the work, but the Word. It's not the project, but the people. To me, this is the essence of a true leader, one who does not know who she inspires or when, but she lives for the why. And with such a fervent passion for the Lord, others can't help but follow. … I'm here to honor Nancy and to grasp the opportunity to thank all women and all who know that serving the why really means serving [God]."
The Women in Business luncheon was sponsored by Concordia, with the university's chapter of Phi Beta Lambda, Edward Jones, Heartspun Flowers and Events, Jones National Bank and Trust Company, Memorial Health Care Systems and Rumery Lawn & Landscape.