Concordia honors Mary Schluckebier as outstanding woman in business
Published by Concordia University, Nebraska 7 years ago on Mon, Feb 24, 2014 11:39 AM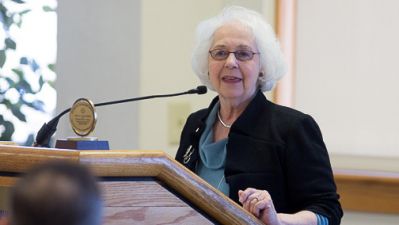 Concordia honored Mary Schluckebier as the 2014 Outstanding Woman in Business at a celebratory luncheon on Friday, Feb. 21. The annual event recognizes the achievements and servant leadership of women in the greater Seward community.
"One of the things that all of my mentors seemed to have was some kind of creed or saying that they start the day with, and one that always keeps coming back to me over the years is…the Golden Rule," said Schluckebier in comments after accepting the award. "It's one that's repeated throughout all types of social history in how to deal in community, and I think that's one of the lessons that Seward has done and just exudes now, is how to demonstrate community, and I thank you all."
Schluckebier is currently the executive director of the Celiac Support Association, the largest non-profit celiac disease support group in America. She has worked for the association for the last 28 years. She was diagnosed with celiac disease and began writing recipes for others affected by the disease.
In 2000 Schluckebier became executive director for the Celiac Support Association in Omaha, Neb. In 2002 she played a key role in opening a Celiac Support Association office in Seward, Neb. Schluckebier said she credits her business success to college instructors, community members and mentors from around the world.
Schluckebier is a Waverly, Neb., native. She comes from a family in which both of her parents ran their own businesses. Growing up in a family of entrepreneurs taught her at a young age the importance of customer service.
She earned a bachelor's degree in home economics and a master's degree in education from the University of Nebraska—Lincoln. Schluckebier served as a state specialist in clothing at UNL and assisted with continuing education classes at Southeast Community College prior to her work with the Celiac Support Association. She also started her own publishing company, Adele Publishing.
The luncheon keynote speaker was Jean M. Petsch, executive director of the Associated General Contractors, Nebraska Building Chapter. Petsch acknowledged Schluckebier's contributions to the community and shared insights on mentoring based on experiences throughout her career.
The 11th annual Celebration of Women in Business luncheon was sponsored by the Concordia chapter of Phi Beta Lambda, Edward Jones Insurance, Memorial Health Care Systems and Jones National Bank and Trust Company.