Concordia honors alumni at homecoming
Published by Concordia University, Nebraska 7 years ago on Mon, Oct 6, 2014 11:17 AM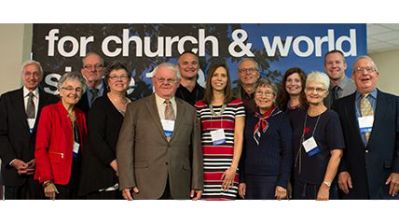 Concordia alumni award honorees were recognized Saturday, Oct. 4, in Seward during the university's Homecoming and Alumni Reunion Weekend. Recipients include, from left to right: Duane and Doris Clatanoff, Luther and Nancy Klenke, Michael Held, Chad Thies, Sarah Salzberg, Richard and Mira Wiegmann, Christin Senechal, Cheryl Klein, Martin Senechal, Donald Klein. Not pictured: Chara Sype
The Concordia Alumni Association at Concordia honored four individuals and five couples as part of its 2014 Homecoming and Alumni Reunion Weekend celebration, Oct. 3-5. The awards are given each year to recognize the service and accomplishments of Concordia's alumni and friends.
This year's awards and honorees include:
Young Alumna of the Year: Sarah (Trinklein) Salzberg
Sarah Salzberg is recognized for her passion for youth ministry by receiving the Young Alumna of the Year Award. Salzberg graduated from Concordia in 2007 and began her involvement in the spiritual development of teens while she was yet at Concordia. She interned for two summers as a college student at the Youth Ministry Office for The Lutheran Church—Missouri Synod. She also served on the media team for the National Youth Gathering in 2004 and 2007, and she was the gathering's emcee in 2013. She is also a well-traveled speaker, especially in the youth ministry program called Unpaved, which encourages youth to live a life of service in response to Christ's saving work. She serves as an Old Testament teacher at Orange Lutheran High School in California and has led students on mission trips to China. Salzberg earned a master's degree in research and theology at Concordia Irvine in 2013. She often gives back to Concordia by leading Caleb Project workshops on campus to encourage and instruct future Lutheran educators. Salzberg lives with her husband, Joshua, in Playa Del Rey, California.
Partners in Mission & Ministry Award: Martin and Christin (Maxson) Senechal
Martin (Marty) and Christin Senechal received the Partners in Mission & Ministry Award in recognition of their dedication to exhibiting Christ's love as teachers, coaches and mentors. The couple graduated from Concordia in 2000 and went on to teach in California for three years. They returned to the Midwest in 2003 and began teaching and coaching at Concordia Lutheran Schools of Omaha, with Marty in the junior-senior high and Christin in the elementary school. Although they teach at separate schools, Marty and Christin team up as coaches of the varsity girls' high school basketball team. In 2007, the Senechals led the team to its first state basketball tournament appearance, and Marty was named the 2007 Small Schools Coach of the Year. The Senechals have also led teams to Gift of God Orphanage in Haiti to provide a basketball camp and Christian encouragement, love and support to the children and youth there. Marty and Christin currently live in Omaha, Nebraska, and have applied to adopt a child from Haiti.
Church Leadership in Outreach Award: Chara Sype
As a musician, teacher and overseas missionary, Chara Sype illuminates Christ's love to all she encounters with true joy, as the name Chara means in Greek, making her a worthy recipient of this year's Church Leadership in Outreach Award. Sype received her degree in music from Concordia in 1999 and went on to add an elementary education endorsement five years later. The first year after college she traveled the country with a music ministry group called Captive Free. Concordia continued to be present in Sype's life as she came back to work as an admission counselor and later in the Student Life Office after teaching second grade in Wisconsin for two years. No matter what her job title was, she continued to work joyfully in mission work as a regular volunteer with Compassion International and People's City Mission in Lincoln, Nebraska. Sype worked for three years as a preschool teacher at Christ Lutheran in Lincoln and shared her musical talent with the church as a youth choir director. She has also served at Faith Lutheran in Lincoln in the youth choir and praise band. Last year, Sype followed God's call for her life to serve overseas as a second grade teacher at St. Peter's Christian College in the township of Mhluzi, South Africa, where she continues to share the Gospel of Jesus Christ with all she meets.
Lay Worker of the Year: Chad Thies
Chad Thies has quickly gained success in the business world, but what sets him apart is the way he also passionately lives his faith. Concordia proudly grants him the Lay Worker of the Year award. Thies graduated from Concordia in 2000 and went on to get a master's degree in human services from Capella University. He began his career as an admissions counselor at Concordia and quickly worked his way up to become the director. He went on to work in internal recruitment, wellness and community relations at Talent Plus and later accepted a position at Union Bank and Trust where he worked his way up to becoming first vice president in just two years. He also serves as president of Zelle Human Resources Solutions and is a board member for the Nebraska Human Resources Institute. Thies has used his leadership skills to serve the church as a lay leader on three call committees for Christ Lutheran Church in Lincoln, Nebraska. Thies' support of Concordia has remained constant since he graduated. He has spoken at business classes and brought Union Bank to the Career and Graduate Fair. Thies and his wife Laura live in Lincoln, Nebraska, with their two children, Oliver and Olivia.
Lifetime Service Award: Richard and Mira (Roeder) Wiegmann
Richard and Mira Wiegmann are the recipients of the Lifetime Service Award because of their decades of service as Concordia professors in the art and theatre departments. Richard graduated from Concordia Teachers College in 1962 and went on to complete a master's degree in fine art. He accepted Concordia's call to be an art professor in 1964 and faithfully served the department for 41 years. A mural he created is still on display in TLEC today. Mira graduated in 1969 and later received the call to be Concordia's drama director from 1986 to 2009. Her legacy includes building the black box theater and beginning the tradition of a fall musical. The Wiegmanns also use their talents to benefit the community, church and world. Mira has led summer speech camps for Lutheran schools, presented at the Plum Creek Literacy Festival and currently teaches English as a Second Language with the Beaverton Literacy Council. Richard served as a liturgical art advisor to the Synod's Art and Architecture Advisory Committee for 25 years, was an illustrator for Issues in Christian Education for 24 years and has commissioned artwork for dozens of churches, schools, museums and businesses. The couple lives in Portland, Oregon, and are both active members at Zion Lutheran Church. They have three children: Flora, Melina and Jacob.
Lifetime Service Award: Luther and Nancy Klenke
Concordia presents the Lifetime Service Award to Luther and Nancy Klenke for their decades of service to Concordia, the church and the world. Luther was an elementary teacher for 10 years in Michigan and graduated from Concordia College in 1968. After graduation, he received a call to serve as the first director of campus center and student activities where he served until his retirement in 2001. Nancy's vocations included being a stay at home mom, motor coach travel escort and manager of the St. John Child Development Center kitchen. She also served as president and treasurer for the Tower Guild for several years and helped found the Guild's scholarship endowment. The couple is also active as members of St. John Lutheran Church in Seward. Luther has served as an elder, usher, communion assistant and reader while Nancy has been active in the Lutheran Women's League and introduced Financial Peace University to the church. Luther was also a volunteer fire fighter in Seward and continues to work part time at Zabka Funeral Home and serve on the Seward Area Chamber of Commerce. The Klenkes have three children: Timothy, Nathan, and Annette Oliver, who serves as director of Concordia's early childhood education program. The family has three generations of Concordia graduates including Luther, his brother Walther, his sister-in-law Shirley, his daughter Annette and her son Trevor.
Church Worker Alumnus of the Year: Michael Held
Concordia honors Michael Held with the Church Worker Alumnus of the Year award for his years as a teacher, golf coach and dedicated church musician. Held graduated from Concordia High School in Seward in 1962, earned a bachelor's degree in music education at Concordia in 1966, and earned a master's degree in music from the University of Wisconsin in 1968. He has served as a teacher and church musician playing organ, directing choirs of all ages and leading hand bell and instrumental ensembles. Held served his students and schools as a golf coach and golf event volunteer. He is also a member of the Concordia University Nebraska Athletic Hall of Fame. Held has supported two of Concordia's scholarship funds and supervises student teachers from Concordia. He also often helps support and schedule Concordia's music groups as they go on tour. He continues to serve in his retirement as an organist and hand bell director at St. Matthew's Lutheran Church in Westfield, Texas. He also coaches JV golf at St. John's High School in Houston. Held and his wife Jeanne live in Cypress, Texas, and have four children and nine grandchildren.
Honorary Alumni Award: Duane and Doris Clatanoff
Duane and Doris Clatanoff's years of support to Concordia make Concordia proud to present them with the Honorary Alumni Award. Doris taught elementary and secondary education for 10 years and received her bachelor's degree in English and music from Midland University. She went on to earn master's and doctorate degrees in English and served as an English professor at Concordia from 1971 to 1985. As a professor, she also led a study tour to England, founded the first chapter of Concordia's Sigma Tau Delta English Honor Society and chaired the Humanities Department. Duane spent years as a farmer, cattle feeder, real estate salesman, broker, irrigation salesman, Seward County City Council member and pilot. He also served on the National Maritime Commission in Texas and was president of the Texas Navy League before retiring in 1998. Doris has served the couple's churches by teaching Sunday School, singing in the choir, being an organist and leading the church music program. Duane has ushered, sung in the choir and served as an elder. The couple lives in Tucson, Arizona, and have three sons: Craig, Clark and the late Dwight Clatanoff for whom they named a scholarship endowment that continues to bless Concordia students today.
Friends of Concordia Award: Donald and Cheryl (Kahle) Klein
For their years of support and service, Concordia grants the Friends of Concordia Award to Donald and Cheryl Klein. Donald graduated from Concordia in 1970 with a degree in English education. He served until 1973 as librarian at Concordia and then taught at St. John Lutheran in Waco, Nebraska. The couple also spent a decade farming in Oklahoma until Donald reentered the education field. He served as the gifted programs director at Newkirk Public Schools where he set up curriculum that included hands-on-activities, museums, and speakers. He received Newkirk's Teacher of the Year award in 1988 and helped found Professional Oklahoma Educators, an alternative to the National Education Association, to stem the tide of anti-family values in education. Cheryl earned a degree in elementary education from Concordia in 1970 and has served as an elementary teacher, organist and Sunday School teacher in her schools and churches. The couple regularly attends Concordia events such as Homecoming and Christmas at Concordia and continues to pray for and faithfully support the university.