Concordia forensics team earns titles at Christian College Nationals
Published by Concordia University, Nebraska 6 years ago on Wed, Apr 1, 2015 10:05 AM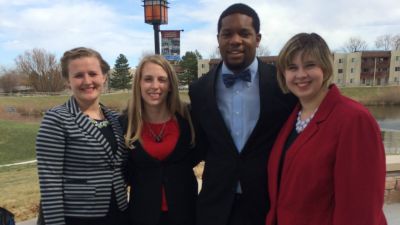 Concordia students Emily Kollbaum, Melonie Kotschwar, Louvell Rogers and Marol Feickert earned a Reader's Theater national championship at the Christian College Nationals in March.
The Concordia University, Nebraska forensics team earned the title of national champions in Reader's Theater and earned a second place Individual Events Sweepstakes overall for Division III schools in the 18th annual Christian College Nationals at Colorado Christian University March 20-22.
"This was a wonderful, rewarding experience for several members of the team, as they've been working hard all year," said Concordia's Director of Forensics Joy Johnson. "In fact, we are very grateful for the talent we encountered leading up to this national tournament, as it gave my team members an edge over the other competition."
Individual speakers also had success at the national tournament. Marol Feickert won the Novice Program of Oral Interpretation event and brought home second and sixth place wins in the Novice and Open Interpretation of Faith Literature categories, respectively.
Emily Kollbaum and Melonie Kotschwar earned third place in Novice Duo Interpretation of Literature. As individual speakers in Novice Dramatic Interpretation, Kotschwar earned seventh place, Kollbaum earned fourth and Louvell Rogers earned third.
The team competed against speakers from 22 other Christian colleges from around the country.
Students who placed at the event include:
Marol Feickert, sophomore, Lawrenceville, N.J.
Emily Kollbaum, sophomore, Concordia, Mo.
Melonie Kotschwar, junior, Seward, Neb.
Louvell Rogers, freshman, Lincoln, Neb.