Concordia forensics students earn championships at Christian college nationals
Published by Concordia University, Nebraska 5 years ago on Wed, Mar 9, 2016 12:09 PM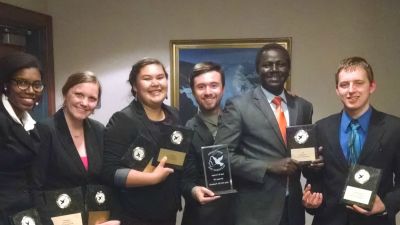 Students Tationa Trice, Kristin Jindra, Hannah Sugita, Sean Carpenter, Musa Fofana and Soren Doll earned top awards for their forensics performances at the National Christian College Forensics Invitational March 5–7, 2016, in San Diego, Calif.
The Concordia forensics team members won three national championships and multiple finalist and semifinalist awards, as well as a second place Individual Events Sweepstakes overall, for Division III schools in the 19th annual National Christian College Forensics Invitational at Point Loma Nazarene University in San Diego, California, March 5–7, 2016.
"The team executed impressive performances at nationals this year, especially considering so many of them are first-year college competitors," said Concordia's Director of Forensics Andrew Moffitt. "This is a strong result for our team, and the students are excited to continue growing and developing as we prepare for next year."
Hannah Sugita was the recipient of two national championships: Novice Informative Speaking and Novice Persuasive Speaking. Kristin Jindra placed second overall in Poetry and was crowned the top Novice Poetry competitor in the nation. Tationa Trice earned third place in Novice Dramatic Interpretation. Musa Fofana earned a third place finish in Varsity Impromptu Speaking. Soren Doll performed in the semifinals in Novice Extemporaneous and Impromptu Speaking, reaching a spot in the top 12 in each category.
In response to the final standings, Moffitt said, "The students' awards at this year's nationals, along with strong performances from senior Sean Carpenter, allowed us to maintain our place as one of the best small Christian schools in collegiate forensics. The students worked hard this year, and this was a great way to end the season!"
The team competed against speakers from 22 other Christian colleges from around the country.
Students who placed and competed at the event include (alphabetical by state, city, last name):
Sean Carpenter, senior, Hollis, N.H., competitor
Tationa Trice, freshman, St. Louis, Mo., third place in Novice Dramatic Interpretation
Hannah Sugita, freshman, Grand Island, Neb., national champion in Novice Informative Speaking and Novice Persuasive Speaking
Kristin Jindra, junior, Pilger, Neb., second place overall in Poetry and national champion in Novice Poetry
Soren Doll, freshman, Randolph, Neb., semifinalist in Novice Extemporaneous and Impromptu Speaking
Musa Fofana, junior, Seward, Neb., third place in Varsity Impromptu Speaking