Concordia establishes geographic honor society
Published by Concordia University, Nebraska 9 years ago on Fri, May 31, 2013 5:34 PM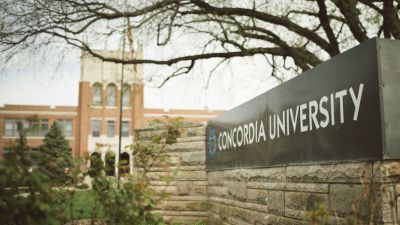 Concordia recently inducted eleven students into its newly created chapter of Gamma Theta Upsilon, an international geographic honor society. Concordia's Mu Beta chapter of GTU held its inaugural induction ceremony on May 7 at La Carreta Mexican Restaurant in Seward, Neb.
Gamma Theta Upsilon became a national organization in 1931. It aims to support geography knowledge and awareness by offering professional academic and laboratory opportunities, encouraging high-quality research and promoting geography as a cultural and practical discipline for students.
"Having a chapter on campus allows Concordia University to recognize outstanding academic achievement in geography," said Joel Helmer, associate professor of geography and chair of the social sciences department. "GTU also provides members with opportunities for academic scholarships and connecting with professionals in the field of geography."
Members must have completed a minimum of three geography courses, maintain a GPA of at least 3.3 overall, and have completed at least three semesters of collegiate course work to be eligible for induction.
Inductees include:
Ruth Krc, Junior, Frederick, Md.
Dana Zluticky, Senior, Lee's Summit, Mo.
Jordan Schultz, Senior, Beemer, Neb.
Angela Harstad, Senior, Lewiston, Minn.
Stephen Kuske, Senior, Green Bay, Wis.
Ryan Baney, Junior, Sioux Falls, S.D.
Austin Albers, Senior, Sioux Falls, S.D.
Tate Bedwell, Senior, Colorado Springs, Colo.
Garrett Golke, Junior, Gowen, Mich.
Mark Meyer, Senior, Trimont, Minn.
Lauren Aufdembrink, Junior, Norfolk, Neb.