Concordia Early Childhood Conference features Cindy Middendorf
Published by Concordia University, Nebraska 8 years ago on Fri, May 31, 2013 5:31 PM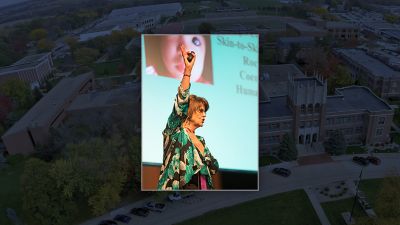 The 14th annual Early Childhood Conference, "Step Into My World," was held at Concordia University, Nebraska on Wednesday, June 12.
The keynote speaker was Cindy Middendorf, former kindergarten teacher with 30 years of experience in education and author of Differentiating Instruction in Kindergarten, Building Oral Language PreK-K, The Scholastic Differentiated Instruction Plan Book, and Early Reading Instruction and Intervention: A Source Book for PreK-2 all published by Scholastic.
Middendorf's presentation was titled "The Primary Brain: A Work in Progress." Middendorf translated brain research into practical strategies that teachers can use immediately in their classrooms. It addressed the questions about learning common to the age group: Why are our youngest learners so chatty? Must they always be fidgeting? What's the brain-body connection all about? What exactly does "brain-friendly" mean in an early childhood classroom?
The luncheon keynote speaker for the conference was Rev. Andrew Ratcliffe, associate pastor for Christian Nurture at St. John Lutheran Church in Seward, Neb. He discussed the joys in children's ministry. His talk, titled "Late Nights, Loud Music, Lattes and Laughable? Sign Me Up!," addressed how adults and leaders relate to children, and how to gain children's attention and convey the information they need to know. He also explained how it's possible to act silly with children while at the same time leading and teaching them.