Concordia celebrates new nativity scene
Published by Logan Tuttle 2 years ago on Wed, Dec 16, 2020 2:53 PM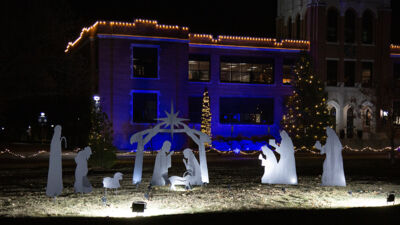 Concordia's nativity scene, made by Gale's Welding, stands in front of Weller Hall.
There's a new nativity scene on Concordia's front lawn.
The scene, based on a number of nativity designs, was compiled by Melissa (Peters) Noel '03, and cut from steel by Gale's Welding.
"We are grateful to Gale's Welding and Melissa for helping us create this beautiful display that will grace our front lawn for years to come," Jennifer Furr, Concordia senior director of alumni and university relations, said.
Creating nativity scenes for clients isn't a new concept for Gale's Welding—a family business owned by Gale and Denise Naber in Waco, Nebraska—but developing the life-sized scene for Concordia front lawn was a special opportunity, Denise said.
"Gale and I have been devout Lutherans, as a married couple, for 40 years," she said. "We are honored to be asked to use our abilities and business capabilities to share our faith and to share the birth of our Lord and Savior."
In order to be precisely cut from the steel, the life-size figures were formatted by Noel for the CNC machine. Each of Gale's Welding's employees had a hand in helping create the scene, Denise said, which took nearly 18 hours to complete.
"We consider this a great investment of our time as a business," she said, "but know full well the reach goes far beyond the financial benefits of paying our expenses and our employees. Doing the work of the Lord, possibly bringing others to Christ through the story of the birth of Jesus is very rewarding."