Concordia celebrates Class of 2020 with in-person graduation ceremony
Published by Concordia University, Nebraska 1 month ago on Sat, Aug 1, 2020 4:38 PM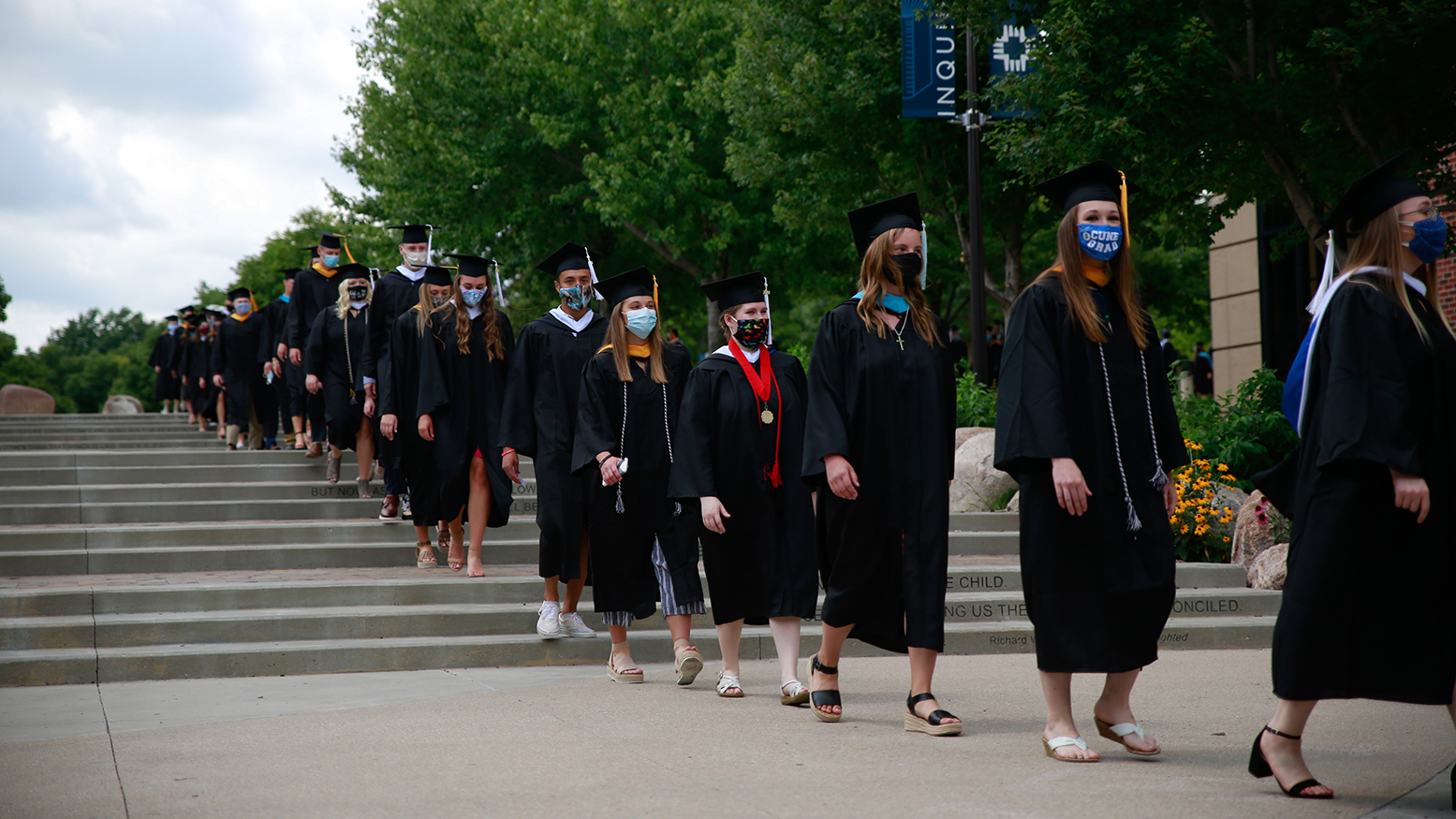 More than 130 Concordia University, Nebraska graduates attended the University's 113th commencement Saturday, Aug. 1. Graduates receiving a degree in August 2019 or December 2020 were also invited to participate in the ceremony.
Rev. Ryan Matthias, who has served as Concordia's campus pastor since 2008, presented the commencement address. Matthias told the graduates they will be needed in society more than they could ever imagine.
"All of the things you've been taught, all of the experiences you've accumulated, all of the relationships you've made here, have prepared you for this time in history," Matthias told the graduates. "You are the ones who know the King. You're the ones who know kindness and you are being sent into a world that needs hope."
Matthias also told the graduates that today's society is longing for people like them who will share God's light with others.
"God is doing something that feels completely revolutionary right now, He's redirecting our hopes to the true hope of His steadfast love and I pray moving us to see people as we've never seen them before and we are being unmasked to the world," he said. "Concordia, the students of Christ, he sends us out into this turbulent world. He brings us the good news that Jesus lives and he always will. Let that information be your knowledge with every breath."
Dr. Kristen Nugent, Concordia's director of secondary education and assistant professor of education, received the 2020 Outstanding Teaching Award. The honor is given to a full-time faculty member who has been nominated by students.
Students nominating Nugent remarked that she ensures her students are served well-beyond the classroom by encouraging divergent thinking, helping students to grow and challenge themselves and others. "This is a quality that is greatly needed in the education field," the nomination states. "Her commitment to teaching future educators' cultural awareness and open-mindedness adds so much to the education program at Concordia."
Nugent, who learned she was the award's recipient at the event, said she would never forget Concordia's 2020 graduation, as well as her education students.
"You are so dear to my heart," she said, "and you're going into just the best profession. Being with people, teaching people, learning from people, it's the best thing I could have ever done in my life."
Nugent said she was appreciative of the nomination that mentioned class discussions of cultural awareness because it's one of her passions.
"Let's keep more of that out there in the world," she said. "Let's learn about each other and from each other, and you can go make the world a better place. Thank you, God, for all the gifts He's given to you and to me."
Rev. Russell Sommerfeld, Concordia's interim president, provided graduates who are going into church work with a sending rite during the ceremony, as well as closing remarks commending the Class of 2020 for their resilience.
"Graduates, as you leave Concordia today, I pray that you will know Jesus Christ is walking with you," Sommerfeld said. "It has been our privilege to live in a Christ-centered community with you, explore academic content and be held on to by God in the midst of life's questions, watching your talents, skills and passions become callings from God as you progressed from knowledge to wisdom to navigate unprecedented events in any of our lifetimes."
The event looked much different than Concordia's typical May commencement. Event organizers worked closely with the Four Corners Health Department to develop public health guidelines for the event based on the most recent Directed Health Measures. All graduates and attendees were required to register for the event, graduates were spaced six feet apart on the Walz Arena floor and face coverings were mandatory while inside Walz Arena and where six feet of distance was not possible.