Concordia Business Students Travel to Cambodia to Serve and Learn
Published by Brooke Lange 3 months ago on Tue, Jun 6, 2023 1:45 PM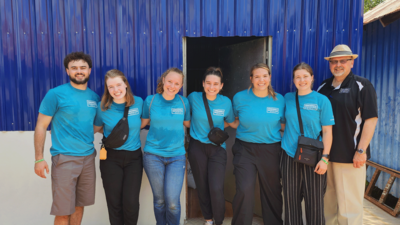 Jose Sanchez, Aubrey Baumann, Kyla Schleusener, Sydni Kroll, Ashley Gerczynski, Mady Payne, and Dr. Curt Beck in front of the rice bank they helped to fund with Garuna Ministries.
From May 7 to May 18, six students from the Paul H. and Mary Ann Koehler Department of Business, Aubrey Baumann, Ashley Gerczynski, Sydni Kroll, Mady Payne, Jose Sanchez, and Kyla Schleusener, went on a mission trip to Cambodia led by Dr. Curt Beck, professor of business administration.
The trip to Cambodia started in 2012 when Beck started looking to offer a mission trip for business students. "When I came to Concordia in 2012, we did not offer an international trip specifically for business students. I wanted to develop an international trip that would incorporate business and mission."
Beck quickly got in contact with Garuna Ministries. Garuna Ministries is a nonprofit that was started in 2001 by Jeff and Cheryl Ehlers. Their mission is to train indigenous leaders and assist in the development of a system of Christian schools in Cambodia. In a less than one percent Christian country, Garuna Ministries is thriving with eight schools serving approximately 1,200 students, two more schools under construction, and a rice bank that provides for about 40 farmers in the local community.
The rice bank is especially meaningful to Beck and the business club. The rice bank was started four years ago, and Concordia's Business Club has been supporting the bank from its idea to implementation. The bank creates local jobs and ensures that local farmers no longer have to work with loan sharks in order to get the rice that provides for their survival. "The rice bank is a sustainable project to support this ministry to be the salt and light. We provided something they needed to minister to their local community, and they are no longer reliant only on donations to make this happen," Beck says.
Prior to this year's trip to Cambodia, the business club had raised $5,500 that provided for a new building and 19,000 pounds of rice for the people. Beck sees the rice bank as an inspiring combination of business and ministry. "Because of the rice bank, the ministry is viewed more positively in the village," Beck says, "and the parents are more open to sending their children to the Christian school."
Along with providing the donation to the rice bank, the team from Concordia's Business Club visited three of the Garuna Christian Schools in Phnom Penh, Siem Reap and Kampot. The team donated various games and brought a packet of school supplies to each of the 60 teachers in every Garuna Christian School. The team taught the children to sing Jesus Loves me with hand signs, delivered a wristband with Jesus Loves me in English and Khmer to every child, and played lots of games.
Aubrey Baumann, a junior and business major who went on the trip recognized the unique ways that serving others could be connected to ministry. Baumann stated, "It was an amazing experience for us to see all of the ways that God is working in Cambodia and to see how business principles can be used so effectively in ministry."