Concordia brings "Arsenic and Old Lace" to stage
Published by Concordia University, Nebraska 8 years ago on Fri, Feb 15, 2013 4:25 PM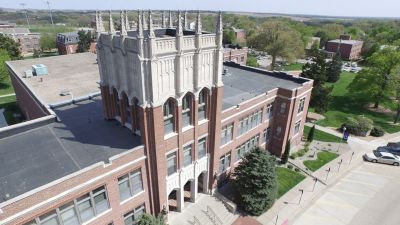 The classic American stage comedy, Arsenic and Old Lace, was presented this spring at Concordia. The play opened Friday, March 1 and ran through Sunday, March 3. All three performances were given in the Studio Theater, located on the lower level of the Music Center.
Written by Joseph Kesselring, Arsenic and Old Lace follows the story of Mortimer Brewster, a drama critic who has promised to marry his bride in the near future. In the meantime, Brewster's two aunts are busy poisoning lonely old men with arsenic-laced wine. The family drama takes on a series of twists and turns revolving around false identities, a slew of murders and Brewster's brother who seems to have gone crazy.
"Some of the jokes are really old—the show was written in 1939—but Joseph Kesselring constructed such an engaging and hilarious plot that it keeps the audience rolling," said Concordia senior Joshua Schultz, director of the play.
Staged in the cozy Studio Theater, no audience member was more than a few feet from the actors. "By bringing all these people together for a show produced in a theatre that puts them right there next to the action, we hoped to create a memorable experience," said Schultz.
Cast members included:
Abby Brewster- Allie Parkhurst, Sophomore, Camden, N.Y.
Rev. Dr. Harper/Mr. Witherspoon- Cory Prelerson, Senior, Papillion, Neb.
Teddy Brewster- Nick Butcher, Junior, Saginaw, Mich.
Officer Brophy- Tyler Zander, Senior, Howard Lake, Minn.
Officer Klein- Stephen Ramsey, Freshman, Utica, Neb.
Martha Brewster- Stephanie Schroeder, Junior, Deshler, Neb.
Elaine Harper- Rosemary Selking, Sophomore, Chariton, Iowa
Mortimer Brewster- Jon Jahnke, Freshman, West Fargo, N.D.
Mr. Gibbs/Lt. Rooney- Cayde Sprecker, Senior, Woodbine, Iowa
Jonathan Brewster- Collin Christiansen, Sophomore, Palmer, Alaska
Dr. Einstein- Matt Boylan, Sophomore, Hilo, Hawaii
Officer O'Hara- Josh Duncan, Senior, Hickman, Neb.
Mr. Hoskins/Mr. Spenalzo- Chris Wilson, Freshman, Fremont, Calif.
Crew:
Stage Manager- Kirsten Awe, Junior, Tilden, Neb.
Set Design/Construction- Bob Olson, Seward, Neb.
Andrew Schwartz, Senior, Greeley, Colo.
Nick Butcher, Junior, Saginaw, Mich.
Advertising/Scene Painting- Brittany Becker, Senior, St. Peters, Mo.