Concordia breaks ground on Dunklau Center for Science, Math and Business
Published by Concordia University, Nebraska 4 years ago on Fri, Apr 6, 2018 12:06 PM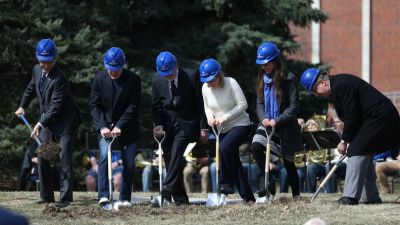 President Brian Friedrich, Rev. Paul Dunklau, Mr. Larry Shephard, Dr. Kristy Jurchen, Ms. Clara Rich and Mr. Paul Schudel broke ground on a new facility for science, math and business.
Concordia broke ground on the Dunklau Center for Science, Math and Business on Thursday, April 5, 2018, thanks to the largest single gift in university history from the Rupert Dunklau Foundation.
Participating in the ceremonial breaking of ground was Brian Friedrich, president of Concordia, Mr. Larry Shepherd and Rev. Paul Dunklau, both from the Dunklau Foundation, Mr. Paul Schudel, chair of the Concordia Board of Regents, Ms. Clara Rich, a senior biology and music major, and Dr. Kristy Jurchen, associate professor of chemistry.
"More than fifty years ago, Concordia Teachers College did something visionary – it opened a science hall, a facility dedicated to equipping teachers to teach science to their future students," said Friedrich. "Today, Concordia again takes a visionary step by breaking ground on a new home for the natural sciences, math, computer science, and business. We break ground on a transformative project that will enhance opportunities for instruction, research and collaboration. We break ground on a facility that will physically match the excellence of the instruction in these fields of study. We visibly demonstrate our commitment to equip women and men to serve and lead in God's world in these vital vocations. Today, thanks to the unprecedented generosity of so many, we break ground on the Dunklau Center for Science, Math and Business."
The event began with a chapel service where the entire campus community gathered to participate.
"I've spent a lot of time in the science building," said Rich. "Even though I won't get to have classes in the Dunklau Center, I am so excited for the Concordia community and for the experience of future science students."
The Dunklau Center for Science, Math and Business will include 58,000 square feet of new construction and 28,000 square feet of renovated space in the current science building for a combined total of 86,000 square feet. The lead gift combined with the donations of other generous donors will fund the entire $24 million project.
The Dunklau Center will house the academic departments of science (biology, chemistry, physics, environmental science), math, business, and computer science. There will be five biology labs, three chemistry labs, two physics labs and two computer science labs. Research labs for each discipline, a gross anatomy lab and a greenhouse will also be featured in the facility. When completed, it will include 11 classrooms and two lecture halls, all equipped with state-of-the-art technology.
Additionally, the facility will provide collaborative spaces for students and faculty to work together in flexible, adaptable environments. A nearly 1,000 square foot cooperative extending above the campus quad will be prominent, providing space for large and small group student projects and study, classes, programs and meetings.
Administrative spaces, faculty offices, two conference rooms and an entirely new area for computing services will also be included in the completed complex.
For updates on the Dunklau Center for Science, Math and Business, visit cune.edu/dunklau